FALL 2014
Tara Sweeney
CLOSE TO HOME: A Visual Journal
August 25 – October 23, 2014
An almanac of observations in watercolor and ink paired with original text explores the extraordinary in the ordinary.
Reception: Friday, September 5, 5:30 – 7:30 p.m.
Artist Talk and Demonstration: Tuesday, September 9, 12-2 p.m., Adeline Johnson Conference Center, adjacent to gallery, first floor of Oren Gateway Center
Studio Visit with Tara Sweeney
Josie Lewis
The Fair Unknown
September 2 – October 23, 2014
Using thick layers of resin and fragmented fashion magazines, Josie Lewis creates intricate dimensional collages that reference cellular biology, starscapes, kaleidoscopes, and explosions.
Reception: Saturday, October 4, 1 – 5 p.m.
Christensen Center Art Gallery

Part of the Fall Art Tour!
Entrance to Wood
Stephanie Hunder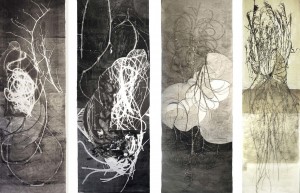 November 3 – December 18, 2014
Hunder creates images that are records of actual objects — branches and grasses inked and pressed into paper with an intaglio press or recorded as photograms on sensitized paper. Although mimicking scientific recording in some ways, the resulting prints are gestural and expressive, forming a subjective place within a skeleton of reality.
Reception: Friday, November 7, 5:30 – 7:30 p.m. 
Christensen Center Art Gallery
Flow Chart: Drift
Joe Page
November 4 – December 18, 2014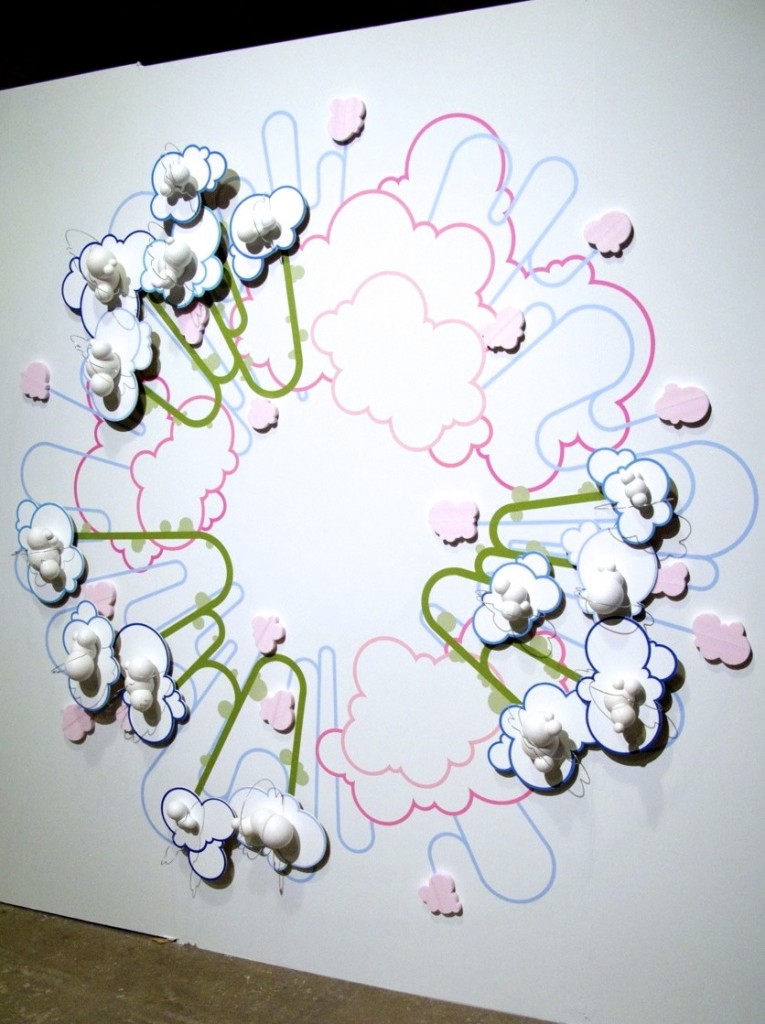 The pop-infused, mixed media installations of Joe Page's  "Flow Chart" series propose landscapes that are both physically interactive environments and distant cartographical maps. Fluctuating pathways, points, and vibrant color fields sprawl in all directions, propelling the viewer along an immersive journey of varied rhythm, scale, and space within the gallery.
Artist Talk: November 3, 8:30 – 9:30 a.m.
Adeline Johnson Conference Center, Oren Gateway
SPRING 2015
Deciphering Nebulas
Jeanine Hill
January 12 – March 19, 2015
Jeanine Hill presents various works including drawings, ceramics, and an installation. These works are inspired by the transformations of line into form, land into sky, and stars and planets into universes. This collection depicts a state of constant becoming.
All-Student Juried Show
April – May, 2015
Gage Family Art Gallery & Christensen Center Art Gallery
This annual student art exhibition features artwork produced by students at Augsburg over the past year.