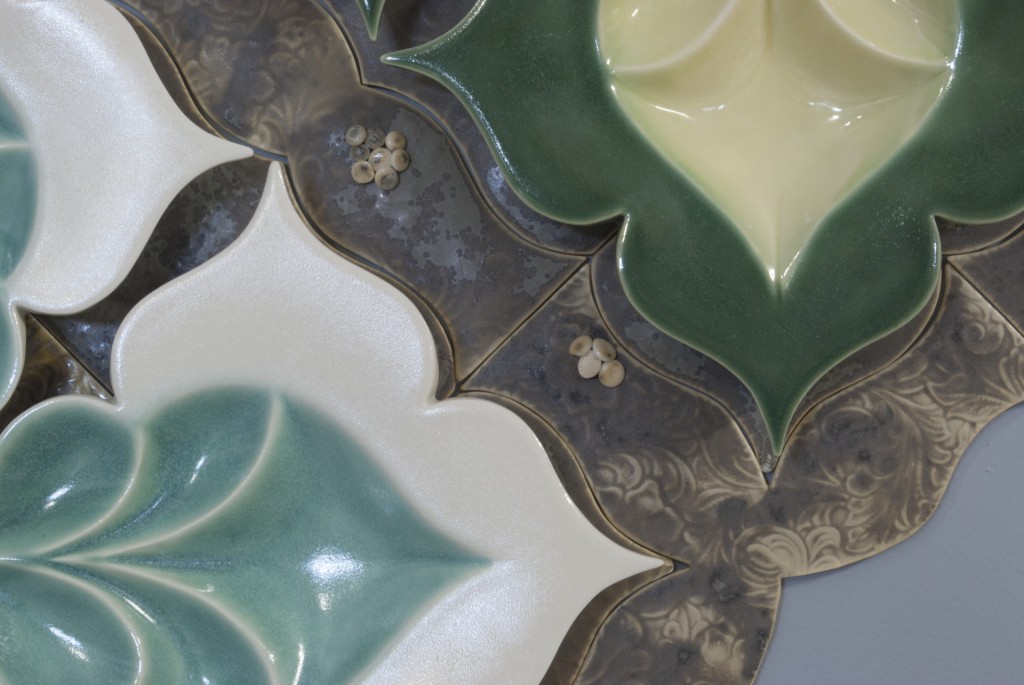 Artist Statement
A marriage of embellishment and utilitarian object is the inspiration behind my oeuvre: that is to create utilitarian non-traditionally shaped ceramic serving platters that maintain a curvilinear edge throughout the form and which reference historical decorative motifs. Today's contemporary ceramics include figurative forms and abstract sculpture, utilitarian ware and architectural and decorative tile. My work is wall sculpture that is still functional; it can be used to also contain and serve food. I see it as a bridge between decorative tile and utilitarian ware and as a vehicle for beginning a communication between these two disparate uses of the same material.
Bio
Kimberlee Joy Roth graduated from the University of Minnesota – Twin Cities with an MFA in Ceramics and an Art History minor in 2007. Her fall 2012 solo exhibition at St. Catherine University's Catherine G. Murphy Gallery in St. Paul, MN raised $1,143 for The Algalita Marine Research Institute in Long Beach, California.
She is a 2013 McKnight Artist Fellow in Ceramics and a Fiscal Year 2016 and 2011 recipient of an Artist Initiative Grant from the Minnesota State Arts Board. Her ceramic work is in the permanent collection of the Frederick R. Weisman Art Museum in Minneapolis, MN, Mayo Clinic Rochester, Rochester, Minnesota, 71 France Apartments, Edina, Minnesota and the Lincoln Arts and Culture Foundation in Lincoln, California. Her work has been shown nationally in juried ceramic exhibitions.
She maintains a studio in the Northeast Arts District of Minneapolis and is the Technician for the Art and Art History Department and The Catherine G. Murphy Gallery at St. Catherine University.