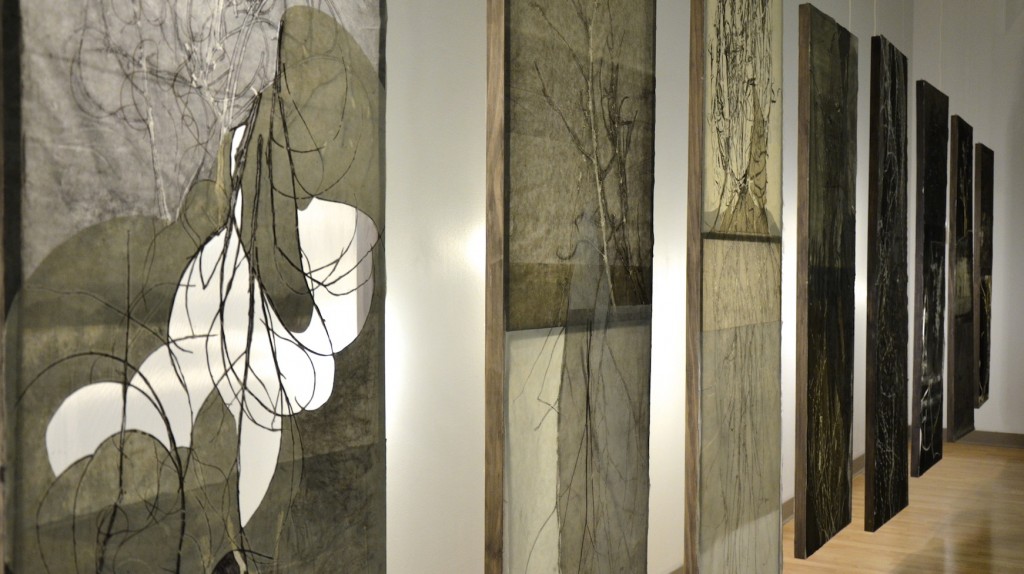 What is the reference of the exhibition title?
This title specifically comes from a poem by Pablo Neruda, Entrance to Wood. To me, this poem suggests that there are spiritual qualities in the material, physical qualities of nature, similar to what is expressed in the artworks in the exhibition.
What originally inspired you to work with nature?
From childhood, I have always been exposed to and interested in scientific imagery – including natural history. When I learned to photograph, however, my real love of "close looking" at nature developed – the patterns and details are endlessly fascinating and almost miraculous.
Tell us a little bit about your connection to nature and how it affects your work.
It's probably a general characteristic of Midwesterners to love nature – who around here doesn't enjoy camping? Growing up, our house was on the edge of town, backed up to fields and forests that we spent plenty of time exploring, and we spent several weeks of every summer deep in the BWCA and Quetico. Nature always feels complete, whole, is beautiful, and makes sense.
I have tried in the past to make work that is more expressive of political ideas, or things I want to protest, but it is never inspired. I feel I have to make work about things I love, things I feel passion for, things that are inspiring – and then the work also contains those feelings.
What was your process of picking objects to run through the press?
In Johnson, VT, where my artist residency was, there was a stream that ran through the middle of town – so I just stepped off the sidewalk into the snowdrifts and hiked along it – it was pretty wooded and very snowy. I snapped off dried weeds and plants that had graceful lines, or somehow stood out by their gesture. Many things you cannot run through a press because thick or hard objects will damage the roller. Many things are also too large – the press bed there was only 28" wide, and plants are surprisingly big.
The first item I tried was a kind of thorny weed that we used to call "trip weed" – you know, the one that makes an arc and reattaches to the ground. It really was too thick and sharp – it made big wrinkles and punctures in the paper in a very "incorrect" manner – but I discovered that these marks spoke to me. One reason I am a printmaker is because I love process – how the act of printing a piece changes and adds to the image. Here, the process was extraordinarily apparent and clearly part of the image.
I experimented with different types of plants – when I returned home, I worked with a lot of the meadow grasses and wildflowers that grow around our house. But it was always things that caught my eye, or contained a voice. Whenever you walk outside you probably notice things like this.
On average how many times would you run one piece of paper through the press?
When I am doing traditional screen prints and intaglio, a print can have anywhere from five to fifty layers. For these prints however, each piece of paper has been run through the press only once- the layers here are made by multiple sheets of paper and collage instead. This process was notably hard on the paper – it came out wrinkled and stretched, and often cut or sliced by the plants.
Is there a specific fairy tale that you would say is prominent in your prints?
Stories where people are turned into trees…
Did you use reoccurring objects in your prints?
Often similar plants were used, while experimenting with what they would produce. The printing technique itself also creates several related images for each object used.
What surprises did you find with the technique you used?
I was a little surprised at how evident the collagraph process was – how the action of the press and paper became such a part of the image. In the gum-bichromate photograms, I was surprised at the variability of sharpness and shadow, and then the play of space between the collagraphs and photograms.
What is one symbol you use in your work to evoke a sense of familiarity with the viewer?
The works in the show have more expressive than symbolic qualities. However, there are some aspects that are recognizable, the most obvious being that they are plant matter – which has to do with life, growth, cycles, etc. The arrangements and textures may also evoke any branching structure – rivers, families, knowledge. I am interested in the iconic meaning of forms– in which objects are not associated with a specific cultural meaning, but have a meaning suggested by their form, the way they look.
What was the most challenging aspect of this process?
The pieces are big and messy, and exhausting to handle. The plants have a limited amount of time you can work with them before they become dry and crispy. Unlike the more planned printmaking I've done before, it's hard to know how things will turn out, and there are no multiples to experiment with.
What are some of your artistic influences?
Mark Rothko, Judy Pfaff, Minor White, Terry Winters, Brice Marden, Karl Blossfeldt, Doug & Mike Starn, Audubon birds, scientific drawing, photomicrography, botanical art
What is next? Will you continue with this series or has it inspired another series/direction?
I am continuing with these collagraphs prints, but combining them with other imagery including old medical drawings – my next exhibition may be more of an installation, with loose papers hanging in overlapped arrangements.
Questions by gallery intern Megan Bartylla