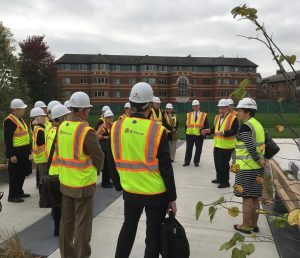 In the regular course of doing its work, members of the Augsburg Board of Regents hear many presentations: presentations that help them shape their decisions about budget, strategic plans, academic priorities, and community engagement. One such presentation caught the imagination of Regent Diane Jacobson.
"We'd been focused on the designs and construction of the Hagfors Center and how it would proceed since the funding for the building was secured. Everyone on the board had been so generous already. Then we heard from the Art and Identity Task Force and its initiative to infuse art in the building. I found it a very thoughtful project, designed to add a special dimension to the disciplines in the building. (art and identity link)
"A few of us thought, it would be wonderful if, as a board, we could do something in the arts for the building. We thought the idea of a welcoming floor was so wonderful."
The welcoming floor described by Diane is a design proposed by artists Stanley Sears and Andrea Myklebust. Made of terrazzo, the floor's design elements include references to cycles of the economy, organic chemistry, living water, a heartbeat, and music in harmony. (watch Stan Sears explain terrazzo and how it is made: link)
Diane and the other Regents noted their appreciation of the task force's efforts to choose artists whose work illuminated the goals and ideals of the building, the intersection of disciplines, and Augsburg's connection to the community.
"The building insists on being a marriage of disciplines. Not disciplines others would naturally put together. To be welcoming people as a Lutheran university, that is what we should be doing! The Art and Identity Initiative raises up the relationship between disciples, something that invites the entire community into the building to celebrate it together."
It was very important for the Regents as a whole to embed key principles and values the building brings to the institution.
"As regents we are deeply thankful for the generosity that has led us to the opening of this building and all it represents. We chose a passage from the Bible for the plaque that will recognize the contributors to the floor. We want to communicate the idea of walking in beauty as one path to community."
The passage chosen is from Psalms. "Teach me your way, O LORD, that I may walk in your truth…" (Psalm 86:11)
Diane Jacobson has served as a Regent for two years and chairs its Academic Affairs Committee. She is a friend of the University, rather than an alumna, and brings to the Regents her experiences serving as a professor of Old Testament for Luther Seminary and as the leader of the Book of Faith Initiative for the ELCA.
She is energized by the Augsburg and its direction.
"There's a way in which Augsburg is coming into its own as a significant academic community, both here and across the country. It's making deep commitment to science and the arts, to multiculturalism, to an open community. The building is designed to function that way—from the way it relates to the gardens and to the community. I am excited by the way we keep our identity as a Lutheran University with it also being a welcoming place. I find that exciting!"