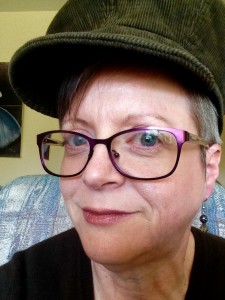 "Augsburg is a second home to me. It always has been and it always will be," says Patricia A. McNevin, '90, whose planned gift will be the Patricia A. McNevin Endowed Scholarship, designated for an English and/or art major.
In fact, after a few decades away, McNevin plans to return to her Augsburg home soon to take advantage of reduced tuition for alumni. She needs only a few more art classes to complete a second major in studio art, with a focus on painting and photography. "Last year I picked up a paintbrush, which is something I haven't done in 30 years. It was very different, almost foreign to me."
McNevin's initial Augsburg journey was a long but fruitful one. She planned to double major in English and art, but health reasons forced a hiatus in the middle of her junior year, creating what she calls "my eight-and-a-half-year plan." She completed her degree in English in what was then called the Weekend College (now Adult Undergraduate) program.
While she was earning her degree, McNevin worked in Augsburg's college relations office, where writing projects put that major to good use, and the magazine, Augsburg Now, published her photographs. She enjoyed other benefits, too, such as a biplane ride donated by alumni who owned a farm in Farmington. Even then, with money tight, she found a way to donate $25 for one key in the Foss Center organ.
"The gifts I received from Augsburg were many," she says. "I didn't even know my name would be on a plaque, but I saw it when I returned for a special event. No matter the amount, leaving some sort of legacy is a way to live on, especially if you don't have children."
Though her career path did not follow traditional routes for English or art majors, "my Augsburg degree got me through the door in more places than one, and I'm using my education in ways that I never imagined," McNevin adds. As an officer for the U.S. Department of Homeland Security, she relies on traditional journalism skills to ask pertinent questions during interviews, and on research skills to learn the constitutional law she must understand to make good decisions.
She hopes that recipients of her scholarship will pursue careers in English and/or art as well as related community or volunteer work. "I would like them to not only be doing something in the field while they're going to school, but also have a solid plan about what they want to do in the future," says McNevin, whose volunteer work has included teaching English as a second language in GED programs.
No doubt she will also want them to love Augsburg, just as she admires the many changes that have occurred since she first arrived. She applauds the leadership and direction of recent presidents, the addition of a masters program and nursing doctorate, and the plans for the new Center for Science, Business, and Religion, to which she has also donated.
"I really don't have very much money, but I wanted to give something back to the college. What it was I didn't know, but then life changed and this scholarship idea came up," she says. "Augsburg's motto when I was there was 'through truth to freedom.' I have spent my life searching for truth, and Augsburg provided that background for me. I ended up in my occupation in response to that search."
As for that feeling of being at home, she says it is hard to describe. Certainly the fellow students, the faculty, the staff, and the physical campus have something to do with it, as does the solid foundation based in the Lutheran faith. "It's just a spiritual feeling, I guess, a feeling that Augsburg is a safe place to grow—in more ways than one."