At the crux of CGE programs is a commitment to providing several points of view and multiple perspectives on any given topic.  CGE places special emphasis on voices that are often unheard in politics, academia, and the media.  This is why students who study abroad with us in Central America experience short homestays in rural areas in each of the three countries; it is impossible to understand a country by meeting only urban dwellers.  Read on for more about the rural homestay experience during study abroad in Guatemala.
The community of Chuitziribal, Guatemala lies in stark contrast to the bustling cosmopolitan city of Quetzaltenango. One has the feeling that they are going back in time as they make the slow trek up the mountainside towards the community.  Travelers are enamored by  the sheer beauty of the place, nestled on side of a mountain with views of the Santa Maria Volcano and Cerro Quemado. The community is populated by people of the Quiche Mayan heritage, whose principal work is subsistence farming and firewood production. Our students are immediately struck by the stark simplicity and poverty of rural life, but also notice the contentment. Students lodge with local families for a week (short-term program participants sometimes visit and overnight as well).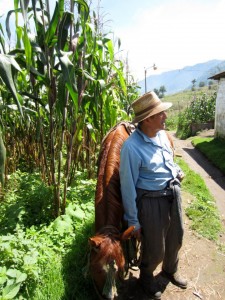 Since the Guatemala portion of the term requires intensive one-on-one Spanish study, each student's individual teacher commutes to the countryside every day to provide five hours of Spanish instruction. Most of the students and teachers will opt for outdoor classes, often hiking up the mountain as they practice verbs and conjugations.  After class, the students head to their homestays for lunch and some quality time with the families. By 2pm, each student returns to the make-shift school to participate in the afternoon activities.  On one day, students will participate in cooking class; the next day they will travel to local hot springs.  Students also visit a local glass factory where a cooperative of workers does artisanal glass blowing.
The experience comes to a close with a festive despedida (going away party). All of the families are invited to a community fire, where there are games, songs, and many words of thanks. Many of the families invite their guests to wear the local traditional dress for the celebration, a wonderful gesture of hospitality.