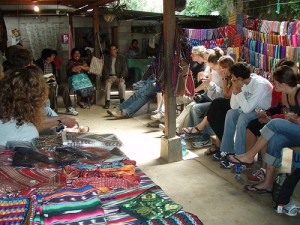 The Center for Global Education offer a full-range of education abroad and international programs.  For institutions seeking to partner with an organization who can offer not only depth and experience but also breadth, consider the many options we offer:
Semester Programs: Since 1979, CGE has offered semester-long study abroad for undergraduate student.  We currently offer semester programs in Mexico, Central America (El Salvador, Guatemala, and Nicaragua), Cuba, and Southern Africa (South Africa and Namibia).  We offer a summer program in Mexico.
Short-term travel seminars open to the public: CGE began offering short-term programs to the general public in 1982.  While these programs are generally not for credit, we do invite students to participate – they can often enhance certain personal, professional, and academic goals.
Short-term faculty-led programs:  CGE has worked extensively with colleges and universities since the 1980s to cooperatively develop faculty-led programming.  We call these "customized programs" because they truly are customizable.  When CGE works with institutions on these programs, we support the faculty – and often the study abroad office, if they are involved – in setting their goals and itinerary for the program.  CGE performs all the in-country set-up.  Once in country, CGE arranges housing, meals, speakers, and excursions.  CGE also provides translation services and assistance with reflection sessions.  CGE has operated in our sites for more than 20 years on average and all of our staff live in the countries where we operate – we are well-equipped with contacts and knowledge to help you make the most out of any short-term experience.
Medium- or long-term faculty-led programs/term programs: CGE has worked with institutions of higher eduction in designing and delivering month-long, term-long, or semester-long programs.  We offer the same services for these programs as we do for our short-term programs.  Many schools who take advantage of these services will travel to multiple CGE sites.
Professional Development: For institutions who are working to internationalize campuses on many fronts, professional development programs are a great option for increasing the intercultural and international experience of faculty and staff.  Since 1992, CGE has offered professional and faculty development programs.  Currently, we offer one "open" professional development trip each summer (themes and locations rotate).  We also work extensively with several institutions in developing their own "closed" professional development seminars only for members from their campus community.