Social Change in Central America: Exploring Peace, Justice, and Community Engagement
Available in spring and fall semesters.
Learn More or ApplyFor Accepted Students
This multi-country semester study abroad program travels to Guatemala, Costa Rica, and Nicaragua in a single semester. It offers students a provocative and inspiring experience that develops Spanish language skills while immersing participants in the lives of host families, urban and rural communities, and grassroots organizations dedicated to working on issues related to conflict, U.S. foreign policy, gender, and economic and social justice.
The community is the classroom and students will meet with liberation theologians, representatives of feminist movements, government officials, political party representatives, former guerrilla leaders, a Mayan priestess, Indigenous leaders, and youth groups.
Highlights
The richness and diversity of Central America compared and contrasted by the history, culture, and anti-oppression struggles of the people of Guatemala, Costa Rica, and Nicaragua
Diverse approaches to environmental conservation, sustainability, economic issues, and social justice
One-on-one Spanish language course for beginning to advanced Spanish language speakers
Both rural and urban host family stays in each country to add to the in-depth cultural experience
Included excursions within each country to Chichicastenango, Antigua, Longo Mai, Miraflor, and more.
Reviews and Blogs
Check out what our former students say at Abroad101.com reviews and GoAbroad.com reviews. Our Central America blog posts give an on-the-ground look at life and study with our programs. We are also happy to connect you directly with program alumni, upon request.
This program has also been awarded a Notable Mention on GoAbroad's list of Top Rated Study Abroad Programs of 2016!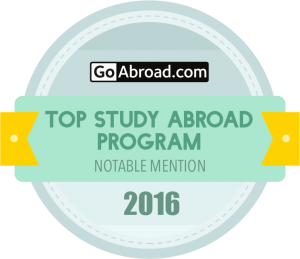 ---