Nation Building, Globalization, and Decolonizing the Mind
Available in spring and fall semesters.
Namibia and South Africa provide a rich context in which to explore the theme of nation-building as these two countries demonstrate that the transition to independence is both a beautiful and painful process. Students learn about historical and present-day challenges in creating national identity, an inclusive multi-party democracy, and a model for development.  Studying Namibia and South Africa's model and approach to such issues provides a useful context for understanding globalization and nation-building struggles throughout the world.
Program Highlights
Learn about the process of building a nation and identity amidst challenges such as underdevelopment, extreme inequality, and painful racial and colonial legacies
A focus on the impact of gender, race, culture, and identity on democratic processes, human rights issues, and social and economic advancement today
Gain hands-on work experience with an internship in a development agency or other organization working to improve the lives of Namibians
Both rural and urban host family stays in each country to add to the in-depth cultural experience. When not with host families, students stay in the CGEE house in Windhoek, a 10-minute walk from downtown
Included excursions within Namibia, as well as to South Africa (Johannesburg and Capetown)
Program Reviews and Blogs
Check out program reviews from former students at Abroad 101 and Go Abroad. We are also happy to connect you directly with program alumni. CGEE-Southern Africa blog posts give an on-the-ground look at life and study in Windhoek.
---
"This program takes you so far beyond an average university. I was able to visit four cities, two countries; I appreciated the opportunity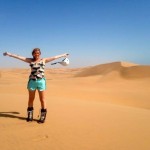 to travel from Etosha to Capetown and several places in between. When in Windhoek, we would often have speakers or go on field trips. All of this ensured that we were seeing multiple angles of the cultures within Southern Africa, and as many people as we could within those cultures, instead of just sitting around and hearing professors explain it in class."
-Fall 2014 Participant (Nikala Pieroni, Clark University)