Social Change in Central America
Exploring Peace, Justice, and Community Engagement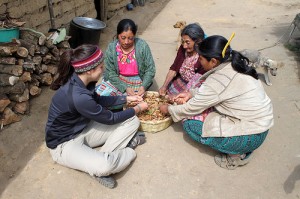 Fall Semester: late-August through mid-December
Spring Semester: late-January through mid-May
This multi-country semester study abroad program, defined by an experiential methodology and unique approach to community engagement, offers students a provocative and inspiring experience that develops Spanish language skills while immersing participants in the lives of host families, urban and rural communities, and grassroots organizations dedicated to working on issues related to conflict, U.S. foreign policy, gender, and economic and social justice.
Location
Situated at the very center of the Americas, Guatemala, Costa Rica, and Nicaragua are home to more than 30 Indigenous and ethnic communities with a cultural heritage rich in creativity, resistance, and political advocacy.  Students are provided with unique opportunities in this region, which is shaped by a legacy of colonization, U.S. intervention, dictatorships, revolutions, and grassroots movements dedicated to social change.  Students' experiences in the region will challenge them to analyze, reflect, and deepen understanding of our world.
Due to the recent US State Department Travel Warning, the previous time/travel in El Salvador has been changed to Costa Rica for the 2014-15 academic year.
Staff
CGE in-country staff and faculty average 12 years of experience with our programs.  Our students benefit from their contacts, networks, and knowledge.
Learn About
The richness and diversity of Central America compared and contrasted by the history, culture, and anti-oppression struggles of the people of Guatemala, Costa Rica, and Nicaragua
Indigenous cosmovisions, the role of religion in social change, legacies of armed struggle, community organizing and engagement, and the impact of globalization and immigration
Diverse approaches to environmental conservation, sustainability, economic issues, and social justice.
Course Offerings
Students will take the following four courses (each worth 4 semester credits):
Taught in Guatemala: one-on-one Spanish language course, beginning-advanced
Taught in Costa Rica: Latin America Liberation Theologies (Religion 366)
Taught in Nicaragua: Citizen Participation within a Globalized Economy: A Nicaragua Case Study (Political Science 310)*
Taught in Nicaragua: Cultural Conflict and Change in Latin America: The Central America Context (History/Women's Studies 355)*
Check out the course syllabi!
Engaging Conversations
Students will meet and speak with liberation theologians and practitioners, women's collectives and representatives of feminist movements, government officials, political party representatives, former guerrilla leaders, a Mayan priestess, Indigenous leaders, and youth groups.
Regional Travel
The program includes field trips within each country, for example:
In Guatemala: a visit to Chichicastenango to experience Central America's largest outdoor artisan market, participate in a Mayan-Catholic mass, and a women's sewing cooperative; a week-long stay in an Indigenous rural community where students will live with families, learn about the legacy of war, engage in traditional cooking classes, bathe in hot baths, and visit a glass factory; several days in the city of Antigua, a world heritage site known for its colonial architecture.
In Costa Rica: explore the current role of churches and liberation theology, particularly through accompaniment and work with immigrants; be exposed to feminist theologies of liberation; learn about ecotheology first hand and how it relates to Latin American liberation theologies, live with host families in San José, and engage in regional travel to both urban and rural areas.
In Nicaragua: a visit to the protected area of Miraflor in the coffee and tobacco region of Esteli to learn about rural development initiatives and conservation; a day trip to Granada, one of the oldest colonial cities in the Americas, as well as the city of Masaya, a capital of Nicaraguan folklore.
Housing and Homestays
In Guatemala, students spend three weeks with an urban family in the western highland city of Quetzaltenango and one week in a homestay with an Indigenous Mayan family.  In Costa Rica students will live with local families in San José, and in Nicaragua students initially live in our study center and then spend four weeks with a local family in Managua. There will also be a three-night rural homestay.
Student Life with CGE-Central America
In Guatemala, students spend a few days in both Guatemala City and Antigua, but the majority of the program occurs in Quetzaltenango (Xela) where students live with homestay families. Xela is characterized by the Santa María volcano, colonial-era buildings, quiet parks, plazas, open-air markets, and narrow stone-paved streets. One-on-one language classes provide unlimited opportunities to practice Spanish. The school is located within a 10-minute walk to homestays, numerous restaurants, and cafés. From Xela, students can explore hot springs, mountainous rainforest, weaving cooperatives, and the oldest cathedral in Guatemala.
In Costa Rica, students spend a few days at a guesthouse in San José and then spend three weeks with local families in San Francisco de Dos Ríos neighborhood, located about 20 minutes southeast of San José. This is a middle class neighborhood made up of mostly Afro-Costa Ricans, Nicaraguans, Colombians, Chinese, and a small percentage of European families.
After Costa Rica, students travel to Managua, Nicaragua and initially live at the CGE house, which is a block away from the President's home and the governing party's offices. Students are 15 minutes away by taxi to shopping centers, movie theaters, supermarkets, and historical landmarks of the city. Students then move in with homestay families for four weeks in the Batahola neighborhood – 10 minutes from the CGE house. In the surrounding areas of Managua, students can visit an active volcano, spend time in the arts and crafts market of Masaya (known as the cultural birth place of Nicaraguan artisans), swim in the Lake Apoyo, hike a semi-active volcano, experience a cloud forest, and visit Granada, one of the oldest colonial cities in the Americas. Students can also experience the warm waters and beautiful shores of the Pacific Ocean, just one hour away from Managua.
Requirements
One previous course in Spanish (or its equivalent) is required.
Program Reviews from Students
Check out program reviews from former students at Abroad 101 and Go Abroad.  We are also happy to connect you directly with program alumni.
Blog
Read about the program experience at our CGE-Central America Field Blog.
Supporting a Diverse Community of Co-learners
The Center for Global Education strives to create for its participants an intentionally diverse community of co-learners where a variety of cultures and backgrounds is represented.
If you have additional questions about issues of diversity, multiculturalism, or oppression in regards to the site to which you will travel, please let us know during the enrollment process.
Application Deadline
Applications are accepted on a rolling admissions basis. Deadlines are October 15 (spring term) and April 1 (fall term). Enrollment is limited; early application is encouraged to ensure a place in the program.