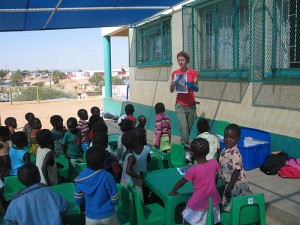 CGE internships offer real-world experience paired with courses designed to facilitate students' knowledge of the global workforce.  In an increasingly globalized world, an international internship is one of students' strongest assets when pursing future employment. Internships during a semester program are part-time* and complemented by other coursework, language classes when applicable, and other program activities such as excursions and speakers.  Be sure to check out the course syllabus for Mexico internships and/or for Southern Africa internships.
All placements are made with agencies that have expressed a need for and interest in receiving a student. In addition to meeting the professional and personal needs of the students, internships are designed to foster a reciprocal relationship with the student, the organization, and CGE as an institution. We strive to maintain socially responsible internships where both the student's and organization's needs are met. Because of this, student applications will be assessed on a case-by-case basis. Decisions regarding placement will depend upon the student's language level (in Spanish-speaking countries), her/his compatibility with a particular internship site, and the organization's interest, needs, and capacity to accept an intern at that particular time.
By completing internships with CGE, students will not only gain valuable experience working in a local organization but will also learn about cultural issues, organizational analysis, and gain personal and professional development through class discussions and/or one-on-one supervision with CGE professors.
Semester Internship Information by Region:
Mexico
Semester programs offering an internship component:
Fall – Crossing Borders: Gender and Social Change in Mesoamerica
Fall – International Business and Global Citizenship
Spring – Migration, Globalization and the Environment
Each program offers a part-time internship as part of the curriculum.  Earn valuable cross cultural skills in business and marketing, social work, education/special education, environmental issues, human rights, health care and alternative health, women's rights, and youth and family ministry.
Credit offered in business, environmental studies, history, interdisciplinary studies, language and cross-cultural studies, marketing, political science, religion, Spanish, women's studies, or youth and family ministry.
*CGE-Mexico offers full-time internships during gap years, summertime, J-term, etc.
The part-time internship for academic credit is a rigorous academic course for students who are already registered for a CGE-Mexico semester program. It involves not only a minimum of 100 hours of work experience and/or participant observation in a Mexican organization but also participation in a fieldwork seminar.
Internship Examples
In the past, students have interned with educational programs, health care entities, indigenous rights groups, and women's organizations. For example, interns have worked at a private secular school, assisting with the library.  The student also had the opportunity to observe board meetings, through which she learned about the business and philosophical aspects of running a school. Other students completed an internship with a local organization that conducts education about HIV/AIDs and promotes LGBTQ rights. These interns assisted with educational workshops and event management and were able to contribute articles to the magazine Queernavaca. Former students have also been able to conduct internships in an international firm that provides consulting in the areas of development finance and corporate social responsibility. These students assisted with projects such as client research and marketing plan development.
Those interested in the part-time internships for academic credit as part of the semester programs must first be accepted to a semester program.
Those interested in the full-time internships (year, semester, J-terms or summer) for academic credit must fill out the Full Time Internship Application.  NOTE: Full-time internships are only available in Mexico.
For questions or more information on CGE-Mexico internships, email Antonio Ortega at ortega@augsburg.edu.
Southern Africa
Semester programs offering an internship component: Nation-Building, Globalization, and Decolonizing the Mind (fall or spring).
Participants will gain hands-on experience working with a Namibian organization that promotes social change and/or development. The internship course includes attachment with a local organization as an intern as well as a seminar. This class time focuses on developing professional skills and reflecting on the internship experience.
Credit for internships is available in Environmental Studies, Interdisciplinary Studies, History, Language and Cross-Cultural Studies, Political Science, Women's Studies, and Youth and Family  Ministry.
Possible internship placements include attachment at an organization dealing with:
HIV/AIDs,
Orphans and vulnerable children,
Environmental conservation,
Health promotion,
Media and journalism,
Human rights,
Homeless and underemployed populations,
Feminist Activism and Gender Issues,
Domestic Violence,
Micro-finance and business development
Youth and families.
Additional internship opportunities are also available depending on students' interest and experience.
Internship Examples
In the past, students have had the opportunity to do an internship with an organization that provides support and advocacy for women living with HIV/AIDS.  Students typically work with the English literacy component of this project, which allowed the women to feel more confident when talking to medical personnel about their health.  The interns have also worked with the women on life skills training and income generation programs. Other students have worked at a school for children who have been left out of the formal education system.  Interns working here have the opportunity to assist teachers with their classes, teach some individual lessons, and provide one-on-on tutoring. Another available internship is with a feminist organization, where students have been able to contribute research and articles for a bimonthly magazine.  Interns have also helped to organize and participate in the Young Feminist Camp. These are just a few examples, and many more internships are available.
Those interested in the part-time internships for academic credit as part of the semester program must first be accepted to a semester program. (Click to apply)
If you have questions about internships in Namibia, you can contact Linda Raven, Program Coordinator, at cgelinda@gmail.com
Video
Be sure to check out our internship-related videos (like this one!) at our YouTube channel!