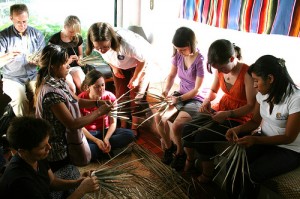 Fall Semester: Mid-August through Early December
In this experiential, community-based program students will cross borders constructed by language, nationality, race and ethnicity, gender, sexuality, socio-economic class, religion, politics, and economics. Students are immersed in various Mexican realities by meeting directly with people of diverse backgrounds, gaining essential skills for future academic and professional pursuits. Earn credit in Religion, Political Science, Business, Women's Studies, Interdisciplinary Studies, and Spanish. The semester includes small group intensive Spanish study provided by Mexican instructors. Fieldwork opportunities (including both internships and independent research) are also available.
Location
Mexico is more than a spring break destination; it takes center stage in debates about globalization, U.S. immigration policy, and sustainable economic development.
The program is based in Cuernavaca, a city known for its perennial springtime (70-80 degrees). Cuernavaca, the capital of the state of Morelos, is about a 1 1/2 hours drive south of Mexico City. Both the city and the state are important in Mexican history: the palace of the conqueror Hernan Cortez borders the central plaza in Cuernavaca and Morelos is known as "the cradle of the Mexican revolution" of 1910 led by Emiliano Zapata, who was born in a small town near Cuernavaca. A city of more than one million, Cuernavaca is also known for its innovative grass-roots education programs, economic cooperatives, and base Christian communities inspired by liberation theology.
Staff
CGE in-country staff and faculty average 12 years of experience with our programs.  Our students benefit from their contacts, networks, and knowledge.
Student Life in Mexico
The CGE campus in Mexico is a 15-minute walk from downtown Cuernavaca and the main city plaza, in the neighborhood of San Antón. CGE is well established in San Antón and has many friends and close connections in the neighborhood, including some of the homestay families. CGE is located at the top of one of the large ravines that runs through the city, offering a dramatic view from the nearby bridge that leads to downtown. Because of the ravine, there is a 100 foot waterfall right in the neighborhood, a local eco-tourist attraction.
Right across the bridge, students will find a large public garden/park, an independent movie theater, the Cathedral, and several popular cafés. CGE-Mexico's campus includes two houses across the street from each other with ample living and study space for students, a library, computer labs and wireless internet, kitchen and dining areas, and outdoor patios and gardens. The Universal language school, where students take Spanish courses, conveniently is located right up the street and has a swimming pool and racquetball court.
Learn About
Mexican history and culture, gender roles and sexuality, human rights, immigration, intercultural communication, Indigenous cosmovision, international business, and U.S.-Mexico relations
Peace, justice, corporate responsibility, sustainability, and social change throughout Mexico
Course Offerings
1 or 2 Spanish Classes (16+ Spanish classes from which to choose!)
Latin American Liberation Theologies (Women's Studies/Religion 366)
Women, Gender, and Social Change in Latin America (Women's Studies 352/Political Science 357)
Internship or Independent Research (Women's Studies 399/499)
Environmental Biology (Biology 118)
Pre-Columbian, Colonial, and Contemporary Mexican Art (Art 231)
Non-credit physical education course in Latin dance
Internship or independent research in business, environmental studies, history, interdisciplinary studies, language and cross-cultural studies, political science, religion, women's studies or youth and family ministry.
Further information and course syllabi can be found our Academic Information page.
Engaging Conversations
Academics and other leaders from a broad cross-section of society, including Indigenous, Mestiza, and Afro-Mexican people and the economically poor; artists, businesswomen involved in fair trade, environmentalists, feminists, government officials, human rights activists, Indigenous healers, representatives of a worker-owned company, and U.S. Embassy officials
Activists in the Mexican Movement for Peace, Justice, and Dignity
Feminist, queer, and postcolonial liberation theologians, pastors, priests, and nuns; members of minority religious groups in Mexico
Members of the LGBTQIA community, including some of the first gay and lesbian couples to marry in Mexico
Housing and Homestays
Two houses in Cuernavaca serve as a home base for most students. Four- to six- week homestays are an integral part of the academic program. Longer homestays are available upon request, as are lesbian- and gay-friendly homestays.
Regional Travel
A short seminar with homestays in a rural village where students learn about Nahua Indigenous spirituality, ecology, gender roles, business, and immigration issues
A short seminar in Mexico City where students meet with government representatives, elected officials, business leaders, feminists, religious leaders, and prominent members of grassroots organizations
Weekend excursions to locations such as the Monarch butterfly sanctuary, Oaxaca, Puebla, Taxco, Teotihuacan, Toluca, and the Nevado de Toluca volcano
Program Reviews from Students
Visit GoAbroad.com to read reviews and ratings directly from students.
Blogs and Videos
Take a look at the CGE-Mexico Field Blog for a ton of great day-to-day highlights from Mexico study abroad.
Internships are a popular element of this program. Listen to what four students have to say about their study abroad internship experiences in the below video. Be sure to check out our You Tube Channel for more videos – including a campus and town tour!
Prerequisites
One college-level Spanish class or the equivalent is recommended, but not required.  Only Spanish courses are taught in Spanish; all other classes are offered in English.
Supporting a Diverse Community of Co-learners
The Center for Global Education strives to create for its participants an intentionally diverse community of co-learners where a variety of cultures and backgrounds is represented.
If you have additional questions about issues of diversity, multiculturalism, or oppression in regards to the site to which you will travel, please let us know during the enrollment process.
Deadline
Applications are accepted on a rolling admissions basis with a final deadline of April 1.