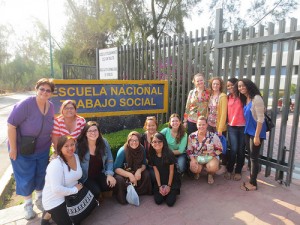 Spring Semester: Late January through Mid-May
The Social Work in a Latin American Context program was jointly created in 2003 by a collaboration of CSWE-accredited social work programs in the Minnesota/South Dakota area.  The program satisfies the curriculum requirements for the BSW degree and is in accord with CSWE accreditation standards.  It is open to social work majors from other CSWE-accredited institutions who meet the pre-requisites for the program.
The mission of the program is to develop cross-culturally competent, ethical social work professionals with a global perspective by providing a semester of transformative, experiential learning focused on social and economic justice.  You will learn from local social workers and community leaders.  The program also includes an exchange with Mexican students of social work.
BSW Mexico Consortium Members:
Students from non-consortium schools are welcome to apply.
Collaborative member of the program in Mexico:
Escuela Nacional de Trabajo Social de la UNAM (Universidad Nacional Autonoma de Mexico) in Mexico City
A visiting social work professor from one of the consortium schools accompanies students to Mexico and teaches the social work courses.
Location
Cuernavaca, the capital of the state of Morelos, is about 50 miles south of Mexico City. Both the city and the state are important in Mexican history: the palace of the conqueror Hernan Cortez borders the central plaza in Cuernavaca and Morelos is known as "the cradle of the Mexican revolution" of 1910 led by Emiliano Zapata, who was born in a small town near Cuernavaca. A city of more than one million, Cuernavaca is also known for its innovative grass-roots education programs, economic cooperatives, and base Christian communities inspired by liberation theology.
Staff
CGE in-country staff and faculty average 12 years of experience with our programs.  Our students benefit from their contacts, networks, and knowledge.
Student Life in Mexico
The CGE campus in Mexico is a 15-minute walk from downtown Cuernavaca and the main city plaza.  CGE is well established in the San Antón neighborhood and has many friends and close connections in the neighborhood, including some of the homestay families. CGE is located at the top of one of the large ravines that runs through the city, offering a dramatic view from the nearby bridge that leads to downtown. Because of the ravine, there is a 100 foot waterfall right in the neighborhood, a local eco-tourist attraction.
Right across the bridge, students will find a large public garden/park, an independent movie theater, the Cathedral, and several popular cafés. CGE-Mexico's campus includes two houses across the street from each other with ample living and study space for students, a library, computer labs and wireless internet, kitchen and dining areas, and outdoor patios and gardens. The Universal language school, where students take Spanish courses, conveniently is located right up the street and has a swimming pool and racquetball court.
Course Offerings
Please note that there is NO Spanish language pre-requisite!
Most students choose four courses from the following:
International Social Welfare: The Mexican Context (required)
Social Work with Groups and Families: Theory and Practice
Comparative Social Policy
Social Work Field Experience
Spanish—select one or two courses from 16 beginning to advanced options
Check out the course syllabi!
Engaging Conversations
This program offers students the opportunity to:
Learn directly from social work practitioners, social welfare policy makers, and community leaders
Take part in fieldwork in a Mexican organization
Meet CSWE EPAS competencies toward a BSW degree
Experience rural and urban homestays
Develop Spanish language proficiency
Gain valuable knowledge and skills for working with diverse and immigrant populations
Participate in a two-week exchange with social work students based in a Mexico City university
Housing and Homestays
Two houses in Cuernavaca serve as a home base for most students.  Four week homestays are an integral part of the academic program.
Community Service and Internships
The program offers the option of community service placements. In addition, field experience placements are available for students with intermediate to advanced language proficiency (a limited number of placements are available for students with fewer Spanish language skills).
Academic Information and Prerequisites
The program is intended for sophomores, juniors, and seniors at the consortium schools (please check with your social work program to see when it works best in your curriculum). Students from consortium schools are given priority in admissions, and the selection of students is made at each participating school. Students are accepted from other CSWE accredited institutions on a space-available basis.  No language pre-requisites. Students from non-participating schools should be social work majors and have completed an introductory social work course.
The equivalent of four courses or 16 semester hours are offered on this program.
Program Reviews from Students
Check out what former students have to say about this program at Rate My Study Abroad.
Videos and Blogs
Our Social Work Student Blog is maintained by the students each spring.  Read about their learning and adventure.
Check out this video snapshot of the program's exchange with Mexican students of social work.  Our You Tube Channel  has additional videos, including a house tour and overview of possible internships/practica.
Supporting a Diverse Community of Co-learners
The Center for Global Education strives to create for its participants an intentionally diverse community of co-learners where a variety of cultures and backgrounds is represented.
If you have additional questions about issues of diversity, multiculturalism, or oppression in regards to the site to which you will travel, please let us know during the enrollment process.
Application Deadline
Applications are accepted on a rolling basis with a final deadline of October 30.