Nation Building, Globalization, and Decolonizing the Mind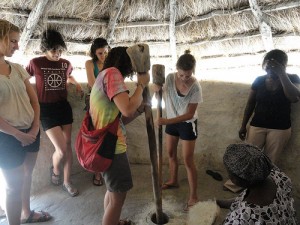 Fall Semester: mid-August through early December
Spring Semester: mid-January through early May
Namibia and South Africa provide a rich context in which to explore the theme of nation-building as these two countries demonstrate that the transition to independence is both a beautiful and painful  process. Students learn about historical and present-day challenges in creating national identity, an inclusive multi-party democracy, and a model for development.  Studying Namibia and South Africa's model and approach to such issues provides a useful context for understanding globalization and nation-building struggles throughout the world. Gain hands-on work experience with an internship in a development agency or other organization working to improve the lives of Namibians. Earn credit in Environmental Studies, Political Science, History, Language and Cross-Cultural Studies, Women's Studies, Religion, or Interdisciplinary Studies.
Location
The program is based in Windhoek, the capital city of Namibia with two travel seminars in South Africa (Johannesburg and Cape Town). Namibia is a multi-ethnic country and its many cultures and languages will be found intermixing in Windhoek. Windhoek is an urban center with a population of 300,000.  It still maintains traces of its German and South African colonialism. Namibia is also one of the most inequitable countries in the world and Windhoek exemplifies such disparities with great wealth and great poverty existing at either ends of the capital.
Namibia and South Africa's emergence from a long history of genocide, colonization, and oppression sets the stage for nation-building and development today.   These countries are a rich context in which to witness both tremendous positive change and challenges. Fascinating cultural traditions and a breathtaking landscapes also captivate and impact students.
Staff
CGE in-country staff and faculty average 12 years of experience with our programs.  Our students benefit from their contacts, networks, and knowledge.
Learn About
The process of building a nation and identity amidst challenges such as underdevelopment, extreme inequality, and painful racial and colonial legacies
The impact of gender, race, culture, and identity on democratic processes, human rights issues, and social and economic advancement today
Course Offerings
Political and Social Change in Southern Africa (Political Science 353)
Racism and Resistance in Southern Africa and the U.S. (History 327)
The Politics of Development in Southern Africa (Interdisciplinary Studies 312/Political Science 354)
Religion and Social Change in Southern Africa (Religion 346)
Environmental and Sustainability in Southern Africa (Environmental Studies 100)
An internship or an independent study for credit in environmental studies, history, interdisciplinary studies, language and cross-cultural studies, political science, religion, women's studies or youth and family ministry
Lifetime Fitness: Yoga (Health and Physical Education 002)
Check out the course syllabi!
Engaging Conversations
Students will meet with members of major political parties, church leaders, feminists, human rights activists, U.S. Agency for International Development (USAID) representatives, and students and professors from the University of Namibia and the Polytechnic of Namibia.
Regional Travel
An orientation in Johannesburg, South Africa to visit various sites of resistance and to meet with activists involved in the liberation struggle and current social justice issues
A seminar in Cape Town to learn about the history of slavery, the formation of coloured identity, and the unique challenges facing the city today
A trip to the Atlantic Coast to learn about Namibia's role in international trade and the impacts of foreign investment
Excursions to rural Namibia to learn about Community Based Natural Resource Management as well as other income-generating projects created for rural Namibians
Housing and Homestay
Students will live in the CGE study center in Windhoek, Namibia. The program also includes a weekend homestay in Soweto Township, South Africa, a week-long homestay in an urban household in Windhoek, and a homestay in rural Namibia.
Student Life with CGE-Southern Africa
The CGE house is a 10 minute walk from downtown Windhoek, where students will find traditional and international cuisines, art galleries, contemporary shopping malls, live concerts, and public gardens where festivals are held throughout the year. Students can travel anywhere from an outdoor craft and food market in Windhoek's township areas to a movie theater in the suburbs for one low taxi fare. Students are sure to run into many friendly faces as they explore the various cultural and entertainment activities that this vibrant community has to offer.
Program Reviews from Students
Hear more about this program from former students:
Blogs and Video
If you want to get a closer look at the daily life, academics, and adventures involved in the Nation-Building, Globalization and Decolonizing the Mind program, check out both our student blog and our staff blog.
View our video detailing one of the rural homestay experiences in this program.  More videos, including a house tour and staff introductions, are available on our You Tube Channel.
Supporting a Diverse Community of Co-learners + Commitment to Sustainability
The Center for Global Education strives to create for its participants an intentionally diverse community of co-learners where a variety of cultures and backgrounds is represented.  Please read more about our commitment to and resources related to diversity.
If you have additional questions about issues of diversity, multiculturalism, or oppression in regards to the site to which you will travel, please let us know during the enrollment process.
Explore our commitment to sustainability and consider supporting our carbon on-setting projects.
Application Deadlines
Applications are accepted on a rolling admissions basis. Deadlines are October 30 (spring term) and April 1 (fall term).