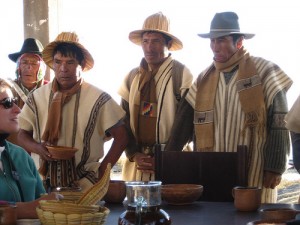 Our programs in Bolivia are based out of either La Paz or Cochabamba and often travel to rural areas. Bolivia is immersed in the struggle for social change and defense of Indigenous and resource rights.  Bolivia is also exciting because it is the only country in the Americas under Indigenous leadership. There are about 37 different ethnic groups living in the country.  The three largest groups are Aymara, Quechua, and Guarani.
Possible Program Themes
Economic globalization
U.S. relations
Aymara spirituality, culture, and identity
Sustainable development and fair trade
Ecotourism and the environment
Education
Health and human rights
Gender issues
Liberation theology
Migration
Indigenous communities
Potential Visits and Excursions
Spend the day in an Indigenous community to learn about grassroots organizing efforts
Hear political parties' views on the topics like education and development
Learn about World Bank development policies
Speak with Bolivian Business Association Members about their views
Share a cultural evening at a university that will include Bolivian folk dancing
Participate in an Aymara ritual and ceremony
Visit to the Tiahuanacu ruins
Meet with US Embassy or USAID officials to hear about policy in Bolivia
Meet with representatives from the women's movement and emerging women's organizations
Trip to Lake Titicaca
Visit to the United Nations Mission in Bolivia
Staff
Program staff from one of our permanent sites will design seminars to Bolivia and accompany groups there. We do not have permanent staff based in Bolivia.
Program Planning Checklist
Our program planning checklist will give you a better idea of some of the specific opportunities available in Bolivia.  When you plan your seminar with CGE, we may ask you to complete the checklist and submit it.
Accommodations
Lodging is in modest hotels or guest houses.
To take the next step, please call our office or go to our Overview and How-to page for more information.