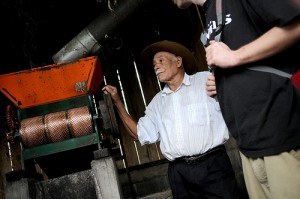 The work of the Center for Global Education in Central America began in 1981 with travel seminars designed to study the nature of the region's political, economic, and social upheavals. With the changes brought about by globalization, the world currently faces a development crisis with large portions of the world's population excluded from effective participation in economic and political decision making. In this context, Central America provides a unique opportunity to explore the global situation through the eyes of the "third world" and their efforts to create alternatives.
Over the years, we have developed and maintained contacts with broad sectors of society in Central America holding a variety of perspectives. These include grassroots organizations, non-governmental organizations (NGOs), and government ministries working on health, education, rural development, the environment, and alternative economic policies.
We work with the social movements of women, Indigenous peoples, peasants, students, and community-based organizations. We meet with universities, business organization, entrepreneurs, small and informal business support organizations, human rights groups, sexual rights groups, and local churches. We have contacts with international NGOs, donor organizations, multilateral banks, alternative credit organizations and other professional development workers.
We regularly meet with various political parties as well as the U.S. Embassy, USAID., local political scientists and analysts, and international journalists.
A note on accommodations:  In Nicaragua, CGE operates a study center with a patio, computer room, dining area, and shared rooms; some groups stay in this facility. For all other locations in the region, in addition to many groups in Nicaragua, lodging is provided in modest hotels and guest
Central America: Country Options
Nicaragua
Our programs are based in the capital city of Managua but often involve travel to Matagalpa, Esteli, the Atlantic Coast, andother rural areas.
Possible Program Themes
Post-revolution and democratic transition
Civil society versus political parties
Health care
Alternative development models
Poverty reduction, economic growth, and human development
Women in post-revolutionary Nicaragua
Role of churches in peace, justice, sustainability, and rights for marginalized groups
Land tenure and agricultural issues
Plight of street/working children
Worker' rights
Fair trade products
Micro-credit
Staff
CGE has four program staff permanently based in Nicaragua.
Costa Rica
Our programs to Costa Rica generally include time in the capital city of San Jose as well as a rural component or travel to a nature reserve.
Possible Program Themes:
Ecotourism and the environment
Sustainable development
Health and education as a human right
Migration
Staff
We do not have permanent staff based in Costa Rica. Program stafffrom El Salvador and Nicaragua design seminars to Costa Rica and accompany groups there.
Guatemala
Our programs are based in Guatemala City and Antigua, but usually also travel to the highlands.
Possible Program Themes
Human rights – Indigenous rights, workers' rights, and children's rights
Land rights
Globalization
Peace Accords
Post-war transition and reconciliation
Eco-tourism
Mayan history and ancient civilization
Mayan spirituality
Educational system
Staff
The Center has one program staff permanently based in Guatemala.
El Salvador
Our programs are based in San Salvador and usually include trips into rural areas.
Possible Program Themes
Political parties and civil society
Human rights
Gender issues
Environment
Globalization
Continued relevance of the martyrs of El Salvador
Current role of churches and liberation theology
Post-war mental health
Democracy and citizen participants
Immigration and family remittances
Natural disasters: droughts, hurricanes and earthquakes
Staff
The Center has program staff  based permanently in El Salvador.
Program Planning Checklists
Program planning checklists are available for some Central American countries, which provide more programming detail.  You may be asked to complete these checklists during the planning stage.
Visit our Overview and How-To page to learn more about developing a seminar in Central America with CGE, step-by-step.