For Churches, Faith-Based Organizations, and Seminaries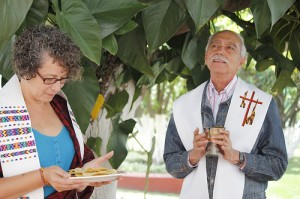 CGE has worked with numerous churches, seminaries, theological schools, and faith-based organizations in our 30+ year history.  Our deep connections to religious communities in the countries where we work allow us to create itineraries rich in content, discourse, worship, and cross-cultural connection.  Our staff are also personally and academically well-suited to engage in ministries with people from diverse cultural backgrounds.
Seminary faculty work with us to teach short-term courses in international settings or to embed international components into semester-long or summer courses.  Pastors, priests, women religious, and lay leaders work with us to design programs that meet the needs of their own groups.
Past groups include:
The Archdiocese of Milwaukee
Bethel Lutheran Church
Brite Divinity School
Church World Service
Little River United Church of Christ
Luther Seminary
Methodist Theological School in Ohio (MTSO)
Murray Institute for Catholic Education (a collaboration between the University of St. Thomas and the Archdiocese of St. Paul and Minneapolis)
Ignatian Colleagues Program (professional development for administrators at Jesuit institutions of higher education)
United Theological Seminary of the Twin Cities
Vanderbilt University Divinity School
Possible Travel and Encounters
Worship in local churches
Discuss state-church relations and the role of church hierarchy
Meet with grassroots and/or academic liberation theologians
Meet with pastoral groups working with women, prisoners, and other marginalized groups
Visit faith-based organizations working for peace, justice, human rights, racial equality, and sustainable development
Discuss issues of religion, gender, and sexual diversity
Meet with students and faculty at local seminaries
Talk with feminist theologians
Attend a local Bible study or base Christian community
Meet with indigenous spiritual leaders
Learn about folk Catholicism & religious syncretism
Sing and talk with members of an ecumenical choir
Meet with members of Churches for Peace, theCouncil of Churches, and Catholics for Free Choice
Seminary students, pastors, priests, and women religious can participate in a 7-week summer program in Mexico that includes a Spanish for Ministry course and either a second Spanish course or an internship with a church or faith-based organization. You can also make arrangements to spend part or all of a sabbatical taking Spanish for Ministry during other times of the year. 
Staff Expertise
This following list highlights CGE faculty and staff with theological training and experience.
Mark Lester (co-director, Central America) was a co-pastor of the Catholic Parish in San Dionisio, Matagalpa, Nicaragua for two years. He received cross-cultural and language school training with the Maryknoll Missioners Associate Priest Program in both New York and Bolivia. He was also a parish priest and high school religion teacher in Ft. Wright, Kentucky. Mark received his B.A. in Philosophy from St. Pius X Seminary in Erlanger, Kentucky and his M.A. in Theology with a concentration in Scripture from Mt. St. Mary Seminary in Emmitsburg, Maryland.
Kathy McBride (co-director, Central America) received theological intercultural training in the Maryknoll Lay Mission Program. Prior to joining CGE, Kathy worked with base Christian communities for three years in Nicaragua.
Dr. Ann Lutterman-Aguilar (director, Mexico) received her doctorate in international feminist theologies from the San Francisco Theological Seminary (University of California-Berkeley). Her dissertation title was "Transformed and Transforming:  U.S. and Mexican Voices on Vocation."  She earned her master's in divinity with a focus on liberation theologies from Yale University. Ann is an ordained pastor in the United Church of Christ (UCC), as well as a member of the Evangelical Lutheran Church of America (ELCA).  She previously worked as a campus pastor at Penn State University and served with the United Church Board for World Ministries in El Salvador.  Ann also worked with the UCC's Office for Church in Society in Washington, D.C. Ann is a dual citizen of the U.S.A and Mexico, where she has worked for CGE since 1993.  She is currently active in the American Academy of Religion, as well as the Mexican organizations Churches for Peace, the Ecumenical Association of Mexican Theologians, the Group of Itinerant Mexican Feminist Theologians, and the Mexican Confederation of Feminist Theologians and Researchers.
Lisanne Morgan (coordinator, Mexico) served as a peer chaplain at York University in Toronto.  She also worked with the Canadian Council of Churches Interchurch Committee on Human Rights in Latin America (ICCHRLA).  Through her work with the Archdioceses of Toronto's Youth Corps, the Student Christian Movement (SCM), the World Student Christian Federation (WSCF), the Cuernavaca Center for Intercultural Dialogue on Development (CCIDD), and CGE, Lisanne has more than 25 years of experience leading faith-based travel seminars and youth brigades to Cuba, the Dominican Republic, Nicaragua, and several regions of Mexico, including Chiapas, Guerrero, Mexico City, and Morelos. Lisanne is currently involved in a women's spirituality group and in inter-religious dialogue with Nahua indigenous communities in Mexico.
Susan Peacock (coordinator, Minneapolis) directed the Global Education and Advocacy Office of the United Church of Christ (UCC) and the Christian Church (Disciples of Christ).  She also served for three years in Bolivia with the Mennonite Central Committee (MCC), the relief and development arm of the Mennonite Church in the United States and Canada.  She currently serves as a member of the UCC's Just Peace Adivsory and as an international advisor to Sembrandopaz (Sowing Peace), a Colombian organization that supports local peacebuilding and reconciliation initiatives.
Fidel Xinico Tum (coordinator, Guatemala) studied at the St. Paul Seminary at the University of St. Thomas and graduated with a master's in divinity.  Fidel formerly worked with the San Lucas Tolimán Parish as director of catechists and delegates of the word.   He also worked closely with Sister Parish since its inception in Guatemala, organizing parish-to-parish linkages.