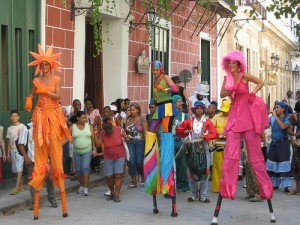 Cuba offers a rich cross-cultural educational opportunity – Cuba's recent social, economic, and political reforms and historical tensions with the United States are fascinating to explore.  Arts and culture are central in Cuba; Afro-Cuban culture plays a key role in the country, as does the legacy of Spanish colonialism.
Cuba is the most populous island nation in the Caribbean with 11 million residents.  The majority of days with CGE in Cuba are spent in Havana with a day or two in a more rural setting.
A Note on Travel to Cuba
U.S. and Cuba laws restrict travel to and programming on the island for U.S. groups.  As a result, programs in Cuba are more costly, less customizable, and require more advance planning than other CGE sites.  Currently, CGE can only work with higher education institutions to coordinate travel seminars in Cuba that are part of an accredited course or for the purposes of course preparation.  Given this, we encourage you to contact CGE's Cuba Program Coordinator at 612-330-1662 early on in your planning process to discuss logistics and your programming ideas, especially if your institution has not previously worked with CGE or the MLK Center in Cuba.  You can also submit this information via our inquiry form and we will contact you to walk through your program and determine if it is a good fit.
Program Parameters in Cuba
Travel seminars are up to 2 weeks in duration.
Overnight excursion to Matanzas/Varadero/Santa Clara or Pinar del Río/Viñales.
Lodging is provided at the MLK Center guesthouse or a modest hotel.
Registration must occur no later than 4 months before departure.
Possible Program Themes
Church-State relations
Government and politics
Business and economy
Popular education
Gender issues
Culture, arts, and music
Environmental sustainability
Potential Visits and Excursions
Visit the rural community of Puerto Esperanza
Discussion at the Cuban Ministry of Foreign Relations
Visit a free-enterprise agricultural market to speak with independent farmers and cooperative members
Visit a bodega (ration store)
Meet with a member of the Cuban Federation of Women
Visit the Che Guevara Monument and Museum (Santa Clara)
Attend an Afro-Cuban dance or drumming performance
Visit with a neighborhood family doctor to discuss local health care issues
Staff
Program staff from one of our permanent sites will accompany groups to Cuba.  Design and coordination occurs in conjunction with our partner in Cuba, the Martin Luther King Jr. Memorial Center.  The MLK Center's fundamental objective is to stand in solidarity with the Cuban people and its churches. The MLK Center is composed of many different faith communities whose commitment to the goals of the Cuban Revolution unites them in service.  The MLK Center is also home to the Paulo Freire Information and Documentation Center as part of its commitment to the principles of popular education.
Accommodations
Lodging is provided in modest hotels, guest houses, or at the MLK Jr. Center.
Program Planning Checklist
CGE's Cuba program planning checklist provides more programming details.  Sponsors may be asked to complete and submit it during the planning phase.
A Special Note on Travel to Cuba
Currently, CGE is only able to coordinate travel seminars in Cuba that are part of an accredited course or for the purpose of course preparation.