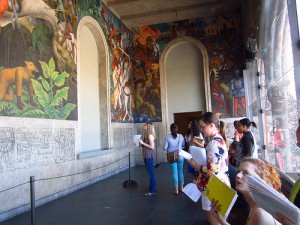 Whether you want to organize a program for a few days or a few months, CGE-Mexico is an experienced provider. CGE-Mexico was established in 1979 with a semester study program in Cuernavaca. The work has expanded to include four semester programs and 10+ short-term programs each year. Cuernavaca serves as a home base for our staff, but programming is offered in Mexico City, Oaxaca, Chiapas, and other locations upon request.
Mexico is a short flight from most parts of the U.S. and Canada and offers a rich location to study Indigenous issues, immigration, free trade, and other issues that link our lives together.
Possible Program Themes
Arts and culture
Globalization and trade
Indigenous culture and spirituality
Archaeology
Assembly plants (maquilas)
Intercultural communication
Politics and history
Immigration and migration
Gender issues
Education
Health and alternative medicine
Poverty
Environment and ecotourism
Human rights
Social work
Religion and faith
U.S.-Mexico relations
Zapatista Movement
Agriculture and sustainable development
Trade agreements: NAFTA & FTAA
Indigenous Rights & Ethnic Groups
Potential Visits and Excursions
Tour the Xochicalco pyramid site and learn about the religious perspectives of Indigenous people
Visit with residents of a squatter settlement
Dialogue with leaders and members of base Christian communities, meet feminist theologians, engage with Churches for Peace and Catholics for Free Choice, and learn about folk Catholicism
Learn about the effects of NAFTA and globalization for Mexican campesinos and laborers, as well as for immigrants to the U.S.
Visit an alternative health clinic and learn about the health challenges in Mexico
Visit the Diego Rivera mural in Cuernavaca to learn key events in Mexican history
Staff
CGE employs three permanent staff and faculty in Mexico.
Accomodations
CGE owns two houses in Cuernavaca, located across the street from one another and just a block away from a language learning center.  Facilities include a dining area, lounge, classrooms, computer rooms, and bedrooms.  Some groups stay in the study center, while others lodge in modest guesthouses or hotels.  Guesthouses and hotels are also used when traveling outside of Cuernavaca. An overnight homestay with a family in an Indigenous areacan also be arranged.
Other Services in Mexico
Staff is also available for program set-up, orientations and other consulting activities. Our facilities are also occasionally available for rental.
 Program Planning Checklist
The Mexico program planning checklist  provides more programming details.  Program sponsors may be asked to complete a checklist during the planning phase.
To take the next step, please call our office or go to our Overview and How-to page for more information.