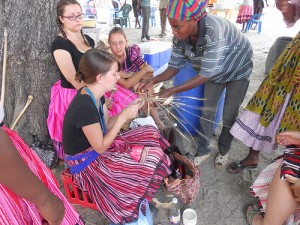 CGE organized its first short-term travel seminar to Namibia and South Africa in 1990 and we have led over 50 short-term programs since that time. CGE established an undergraduate semester program in Namibia in 1994, which led to the acquisition of an office and study cetner in Windhoek. CGE was the first US educational organization to have a permanent presence in Namibia. The longevity of our relationships with a wide range of community members is a unique feature of our travel seminars in Southern Africa and contributes to the excellence of our programs in these countries.
CGE designs and delivers programming in both South Africa and Namibia. Most of our programs in South Africa focus on Johannesburg and/or Cape Town. In Namibia, programming can be done in almost any part of the country. The most popular areas are Windhoek, Walvis Bay/Swakopmund, Northern Namibia (Ondangwa and Oshikati), and Etosha National Park. Rural or urban family stays can be arranged in Namibia, and urban family stays in Johannesburg.
Possible Program Themes
Nation-building
Race relations
Sustainable development
HIV/AIDS
Apartheid
Human rights
Ethnicity
Reconciliation
Ubuntu
Potential Visits and Excursions
Visit HIV/AIDS-related orphanage
Meet with organizations that dealt with human rights during the liberation struggle
Meet with SWAPO Party representatives as well as members of opposition political parties
Visit grassroots women's development organizations
Discuss environmental issues and planning
Visit the Cheetah Conservation Fund
Travel to Etosha National Park
Visit the Council of Churches to discuss the role of the church in nation-building and healing from apartheid
Hear a presentation on the effects of globalization on the economy
Our program planning checklist provides many more details about speakers and excursions in Southern Africa.
Accommodations
Groups stay at CGE's guesthouse/study center or another local guesthouse.  In other parts of Namibia and South Africa, you will stay at a modest guesthouse or church-run retreat center where rooms are semi-dormitory style with shared bathrooms.
Some travel seminars may include a family stay to introduce you to family life in Southern Africa.
Program Planning Checklist
Our Southern Africa program planning checklist provides more programming details.  Sponsors may be asked to complete and submit it during the planning phase.
Staff
Our three permanent staff members are based in Windhoek.
To take the next step, please call our office or go to our Overview and How-to page for more information.