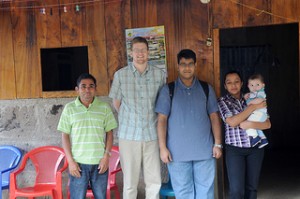 Since 1982, we have coordinated over 1,000 short-term seminars and programs for more than 10,000 participants.
Our international travel seminars take learning adults around the world, introducing them to the peoples and situations of Mexico, Central America, Southern Africa and other places. CGE's one-to three-week travel seminars bring participants face-to-face with people of other cultures.  Through firsthand encounters, you'll have a unique opportunity to examine the root causes of poverty and oppression, explore the dynamics of development, and discover the spirit of hope lived out by people fighting for social change.
Two aspects make CGE's short-term programs and seminars unique:
The commitment to hear the perspectives of those working on the grassroots level for social change — voices that are not often heard on other travel programs or in the mass media.
CGE's  learning philosophy, which emphasizes group learning and reflection. Through regularly scheduled group sessions, you will be able to share observations, reactions and analysis with the other participants on the seminar.
Who Will I Meet and What Will I Learn?
You'll appreciate meeting an exciting variety of resource people in a travel seminar. Most travel seminars include the following components:
Meeting with government officials and members of opposition political parties
Dialogue with local business leaders
Visit to a school in order to talk to students and teachers
Visit with doctors or community health care workers at a local clinic
Engage with a church community to understand their role in promoting social change and development
Meet with people representing different cultural and ethnic groups
Farm tour and meetings with farmers
Visit to a rural and/or urban community to discuss emigration patterns to the U.S. (in Latin America)
Hear from human rights advocates and representatives of international non-governmental organizations
U.S. Embassy visit
Tour a nature reserve and/or an area affected by ecological degradation
Visits to  key historical and/or archeological sites
Shop at fair trade or local artisan cooperatives
Some seminars also include Spanish language study, family stays, and opportunities for hands-on community engagement.
Who Goes on a Travel Seminar?
Most travel seminars are geared toward independent adult learners (non-credit) or undergraduate students traveling as part of a course.  Most travel seminars require a high level of emotional and physical stamina. We will make every effort to accommodate special needs pertaining to medical conditions and dietary restrictions. Given local realities, however, it is not always possible to accommodate every need. We ask that you communicate specific concerns you might have  with us before your seminar.
Young adults under the age of 18 are welcome to participate in programs (especially when their program is sponsored by their high school or church) but are required to submit the following:
For people under the age of 18 who are traveling WITH a parent/guardian on a CGE program, the following requirements apply:
Discuss the child's participation with CGE in advance – such accompaniment is not always possible
Carry along ONE of the following two items:  two notarized letters or consent forms.