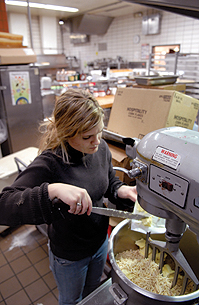 The Campus Kitchen at Augsburg College (CKAC) is one of 10 Campus Kitchens in the country that utilizes surplus food from dining operations to provide meals to our less fortunate neighbors. The mission of The Campus Kitchens Project is to use service and food as a tool to:
Strengthen Bodies by using existing resources to meet hunger and nutritional needs in our communities;
Empower Minds by providing leadership and service learning opportunities to college students, and educational benefits to adults, seniors, children, and families in need; and
Build Communities by fostering a new generation of community-minded adults through resourceful and mutually beneficial partnerships among students, social service agencies, businesses and universities.
CKAC enhances that core mission by a pronounced commitment to sourcing as much food as possible from local and organic sources and teaching clients and volunteers about the importance and health benefits of supporting local agriculture. CKAC firmly believes that community development and neighborhood empowerment must be rooted in healthy food options for everyone, regardless of income or class. To that end, CKAC has developed a number of partnerships and programs to highlight ecological stewardship and environmental justice:
Ploughshare Farm: Each growing season, CKAC receives 6 shares of organic produce from this family farm in Parker's Prairie, MN. It comprises 60% of the produce we serve to our clients during the harvest season. To find out more about how this partnership began, see the article in the Fall 2006 issue of Augsburg NOW.
Project CHOICES (Community Health Originates in Creating Environmental Sustainability): Using local, organic food resources, CKAC implements a summer nutrition curriculum with neighborhood youth to teach them about the importance of choosing health for their bodies and the earth through the food they eat. The youth learn how to prepare fresh produce and are given exposure to fruits and vegetables they may have never seen before.
Community Garden: Coming in the summer of 2007, the community garden will augment the nutrition education of Project CHOICES by involving neighborhood youth in the cultivation of their own vegetables. Youth will learn the importance of soil heath, composting, and the full cycle of food while being treated to some tasty meals.
Waste Reduction: Since inception, CKAC has kept more than 35,000 pounds of food out of the landfill and turned it into over 37,250 meals for the community.
For more information about the Campus Kitchens Project, visit www.campuskitchens.org.