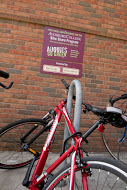 The Augsburg community has the opportunity to take advantage of a location in the heart of one of the best biking regions in the country.
There are hundreds of miles of bike trails and paths through the Twin Cities and adjoining communities, and more routes and paths being added each year. There is an active community of cyclists taking advantage of these resources year-round.
Biking is the most efficient form of transportation on the planet, is a great form of exercise and it's a great way to see the city.  It's also cheap, easy, and fun. So hop on your bike and head to Uptown on the Midtown Greenway.  Check out the scenery along the Grand Rounds, the Kenilworth Trail, or Fort Snelling State Park.
Bike Trails near Augsburg
At either the Franklin or Cedar LRT stations, you can pick up the bike trail that parallels the light rail tracks. Heading south on that trail takes you to the Midtown Greenway. Heading north takes you downtown to the Metrodome and close to the West River Parkway.
The Midtown Greenway is a gem of a trail that runs east-west a block north of Lake Street between the river and the Chain of Lakes.
Gear
Bikes: For city bicycle commuting, there are all sorts of bikes you can use from custom city commuting bikes, to touring bikes, recumbents, or even the locally famous "tall bikes."
It's up to your personal taste, but nothing fancy is necessary. Mountain bikes aren't the most efficient for city streets, unless you're riding in the snow or like riding off road as well. Otherwise a touring or commuting bike with smaller tires is more efficient than the knobby mountain bike tires.
Other gear:
Lights for biking at night
A good lock
Helmet
Panniers (the "saddle bags" you can use for carrying gear)
Portable pump and patch kit and tire irons for repairing flat tires.
Basic safety suggestions for riding in the city
Keep your ears open: hearing cars is key (no headphones or iPods while riding)
Stay away from cars: the key is to stay off busy streets, ideally on designated bike paths, but often the quiet streets through neighborhoods are better than bike lanes on busy roads (like on Minnehaha Ave in South Minneapolis, or the downtown bike lanes).
Wear a helmet. We are an educational institution. Closed head injuries make it hard to learn.
When riding at night, use a headlight, tail light, and wear a reflective vest or reflective clothing.
Whether driving or biking, know the MN bike laws.
Mass transit
All Metro Transit buses and the Light rail cars are equipped with bike racks. So if you get tired or want to avoid biking through a stretch of your trip, you can just throw your bike on the rack and take a ride.
For more information or questions
Contact Prof. Joe Underhill, campus bicycling liaison.
Local resources and links