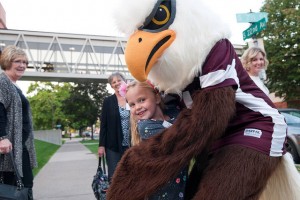 What could be better than a fall weekend at Augsburg … celebrating with your Auggie in all the Parent and Family Weekend activities for Homecoming 2015? The weekend is packed with all kinds of events that will help connect you with your student amid the fun of Homecoming weekend, just in case you're also an Augsburg grad!
What's Included?
Friday, October 9
Auggie Hours, 6-8:15 p.m.
Homecoming Fireworks, 8:30 p.m.
Saturday, October 10
Taste of Augsburg, 11 a.m.-1 p.m.
5 booth tickets included.
Homecoming Football Game, 1 p.m.
Auggie Block Party, 3:30-6 p.m.
Snacks & 2 beverage tickets included.