January 25-26, 2019
Every spring, Augsburg University invites the best and brightest prospective Auggies to participate in Scholarship Weekend. All students who come have a chance to meet their future classmates and professors; to overnight in the Augsburg dorms; and to join us with their parents at a special banquet to celebrate their acceptance into the Honors Program. All students accepted in the Honors Program are invited to interview for the President's Scholarship.
"The Great Leap" at the Guthrie Theater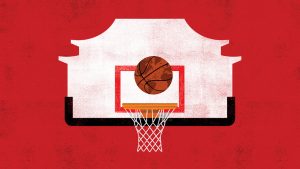 This year, all students who attend Scholarship Weekend are also invited to a performance of Lauren Yee's "The Great Leap" at the Guthrie Theater.
According to the Guthrie:
"When an American basketball team travels to Beijing for an exhibition game in 1989, the drama goes deeper than the strain between countries. For two men with a past and one teen with a future, the game is a chance to stake their moment in history and claim personal victories off the court. Tensions rise right up to the final buzzer as history collides with the action in the stadium. Rapid-fire comedy meets poignant reflection in this perceptive new play, inspired by the life of playwright Lauren Yee's father."
These special events are for Scholarship Weekend participants only. And the only way to see or do any of it is to apply and attend Scholarship Weekend, January 25-26, 2019! For more information, see the President's Scholarship application.
Selection Process
The deadline for the President's Scholarship is December 1, 2018. All sections of your application must be received by this time to be considered for the Honors Program. Students are notified upon acceptance, on a rolling basis. All applicants accepted into the Honors Program are invited to compete for the President's Scholarships during Scholarship Weekend. You will be notified via email, when we will also provide additional information about participation in the weekend.