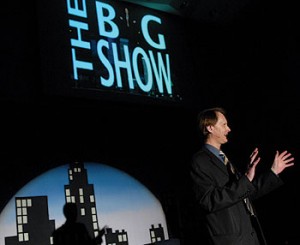 Every spring, Augsburg College invites the best and brightest prospective Auggies to participate in Scholarship Weekend.
In addition to an opportunity to meet with their future classmates and professors, students interview or audition for the President's Scholarships and for Fine Arts Scholarships.
On Friday evening, students are treated to The Big Show—a spectacle unlike any other experience they will have as Auggies. It's a chance for them to relax and for the College to showcase its less serious side.
The evening features performances by Bob Groven, director of Augsburg's Honors program; history and medieval studies professor Phil Adamo; and Augsburg's President Paul Pribbenow himself.
This special event is for the eyes of Scholarship Weekend guests only—few current students, faculty, or staff are treated to the performance. The only way to see it is to apply and come to scholarship weekend yourself!