Every spring, Augsburg College invites the best and brightest prospective Auggies to participate in Scholarship Weekend.
In addition to an opportunity to meet with their future classmates and professors, students interview or audition for the President's Scholarship and for Fine Arts Scholarships.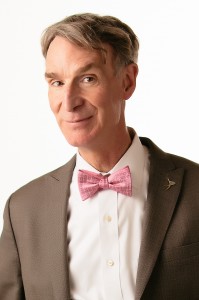 Keynote Speaker – Bill Nye "The Science Guy"
This year, Bill Nye "The Science Guy" will share his love for science when he speaks February 14, 2015, at Augsburg College's Scholarship Weekend. Nye, who will talk about "How Science Can Save the World," will speak with academic depth and humor about planetary science, climate change, evolution, environmental awareness, and more.
Finalists, along with their parents, will be offered complimentary admission to attend Nye's talk as part of Scholarship Weekend. In addition, finalists will have the exclusive opportunity to attend a post-talk VIP event with Bill Nye himself!
For more information about Scholarhip Weekend and to get started on your President's Scholarship application, click here.
The Big Show
On Friday evening, students are treated to The Big Show—a spectacle unlike any other experience they will have as Auggies. It's a chance for them to relax and for the College to showcase its less serious side.
The evening features performances by Bob Groven, Augsburg's President Paul Pribbenow himself, and current Honors Students.
This special event is for the eyes of Scholarship Weekend guests only—few current students, faculty, or staff are treated to the performance. The only way to see it is to apply and come to scholarship weekend yourself!
Selection Process
The deadline for the President's Scholarship application is January 12th, 2015 – all sections of your application must be received by this date. Applicants will be notified if they are selected to compete as finalists at Scholarship Weekend by January 26th, 2015 via email. Additional information will be provided to all finalists about their participation in the weekend at this time.