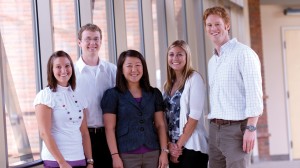 Located in the heart of Minneapolis, Augsburg College is a four-year, university-level, liberal arts college offering more than 50 undergraduate majors and 9 graduate degrees to more than 4,000 students of diverse backgrounds.  The trademark of an Augsburg education is its emphasis on direct, personal experience.  Augsburg College prides itself in educating students to be informed citizens, thoughtful stewards, critical thinkers and responsible leaders.
The Augsburg experience is supported by an engaged community that is committed to intentional diversity in its life and work. An Augsburg education is defined by excellence in the liberal arts and professional studies, guided by the faith and values of the Lutheran church, and shaped by its urban and global settings.
Augsburg College is accredited by the North Central Association of Colleges and Schools. In the past 5 years, Augsburg students have earned honors including Rhodes Scholarships, Fulbright Scholarships and many other awards and grants.
In 2010 Augsburg College was one of six higher education institutions in the nation to receive the 2010 Presidential Award for Community Service, the highest honor in the annual President's Higher Education Community Service Honor Roll. U.S. News & World Report named Augsburg as one of the best colleges for service-learning, which includes 31 schools across the country where volunteering in the community is both an instructional strategy and a requirement of a student's coursework.
The student-faculty ratio at Augsburg College is 16:1, and the school has 64.4 percent of its classes with fewer than 20 students. The most popular majors at Augsburg College include: Business, Management, Marketing, and Related Support Services; Education; Health Professions and Related Programs; Communication, Journalism, and Related Programs; and Social Sciences.