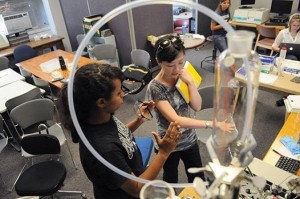 With 50 majors across 35 departments including: Business, Psychology, Physics and Theater Arts -there is something for everyone at Augsburg. Explore our majors.
Not sure what you want to study? Not to worry. At Augsburg you will have access to faculty, staff, and support services that will help you along the way. In addition to exploring our majors review our class catalog. This will give you a great idea about the classes taught at Augsburg.
No matter what you study you'll learn about service and develop your skills through our Core Curriculum. This is what makes your educational experience uniquely Augsburg.
Interested in designing your own courses, writing for a scholarly journal, or engaging in lively debates with your classmates and teachers? Then the Honors program might be for you.