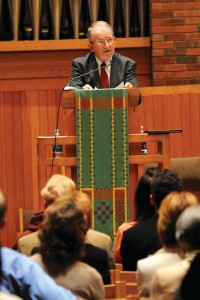 Alumni, faculty, friends, and University leaders gathered on campus September 26, 2012  for a festive evening celebrating the 25th anniversary of Augsburg University's pioneering Master of Arts in Leadership program.
Professor Garry Hesser, who has been teaching "Creativity and Problem-Solving" to MAL students since the program's inception, spoke about the qualities he and other scholars see as crucial to successful leadership in today's communities: listening, learning, asking, meditating, acting and sharing spaces with followers. Hesser is a professor of sociology and Martin Olav Sabo Professor of Citizenship and Learning. The Sabo Center's Homecoming-focused symposium preceded the  MAL event.

Augsburg President Paul Pribbenow's remarks included how he sees MAL as an embodiment of the University's liberal arts mission lived out in the work graduates do in the community and the world.
MAL Director Alan Tuchtenhagen introduced the program with a call for graduates to stay involved with the Center for Leadership Studies. Augsburg's first graduate program has led hundreds of graduates on their individual leadership paths, he said.
A reception preceding the evening's program featured reunions among graduates and faculty, a slide show covering images of MAL events, classes, travel, community accomplishments and other social gatherings over the years.
Discussion groups followed Hesser's reflections—and challenges—for leaders taking the evening's energy into their communities.
View Hesser's address at http://youtu.be/ZNoVHIqRxOo.
Read the text of Hesser's address at Washington and the LLAMAS.
Retrieve a summary of the U theory, referred to by Hesser, at Previewing the U Theory.
For an article in the Augsburg Now magazine about the event, go to MAL celebrates.