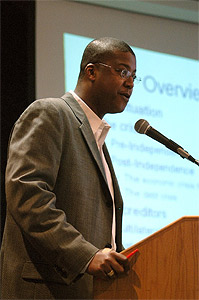 A centerpiece of the MA in Leadership program is, the Center for Leadership Studies (CLS)
The CLS provides a series of workshops and programs to help in one's role as a leader. The workshops are primarily done at organizations around the Midwest and are designed to help participants build a network of mutual support and an internal base to ground them as they use their gifts to lead with integrity.
In addition, the Center offers workshops each year on various aspects of leadership which are open to students, alumni, and the community.
This work is supported by the MAL Endowment Fund which was developed to provide continuing activities in leadership at Augsburg University. For more information or to make a contribution to this fund, please visit our Give to the Max page.
Contact Jolee Lilja in the MAL Program office at 612-330-1150 or email liljaj@augsburg.edu for more information on upcoming workshops and events, or to schedule a workshop with the Center for Leadership Studies at your workplace.
Exploring your Leadership Style: Discover your Information Processing Preferences
Here is one example of a leadership workshop. 
I Opt is a leadership assessment tool used in professional development that will help you understand how you gather, process and act on the information that is all around you. This shapes your leadership style. To effectively lead others, it is helpful to understand the strengths and vulnerabilities of your own approach.
Prior to the workshop, participants will complete a short  online survey (less than ten minutes). The results of this survey will be used to generate a personalized report that each participant will receive at the workshop. These Advanced Leadership Reports identify information processing preferences, providing insights into issues that people bring with them everywhere they go. Tom Morgan, a certified I Opt interpreter, will explain the I Opt theory and help you get the most out of your individual report. Morgan is a professor of business and leadership studies at Augsburg University.