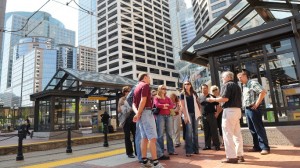 The Master of Arts in Leadership program can be completed in two years with a combination of intensive face-to-face sessions and online coursework through the Integrated Graduate Studies model. This distinctive Augsburg program features deep learning experiences and a schedule tailored to the needs and demands of adult students.
Connect with the city and its leaders
At the launch and mid-point of the program, you will attend an intensive face-to-face course that will allow you to deeply explore leadership topics while connecting with your learning community.  During the five-day on-campus launch experience, you will meet with leaders from the neighborhoods surrounding Augsburg.  The schedule for the midpoint intensive may include a global study option.
Connect the classroom to your life
The remainder of your coursework will be completed online and supported by three on-campus sessions per term (see integrated MAL curriculum). This convenient schedule allows you to work at a time and place that best fits your lifestyle.
Connect with a community of learners
You will complete the MAL integrated studies program with a cohort of your peers representing many different organizational and personal leadership perspectives. Not only will you learn from each other, you will also build relationships that will provide support throughout your program and a valuable network for the future.
Integrated Hybrid Cohort Schedule
The MAL Integrated Graduate Studies model is a cohort program. Students move through the program together and will complete the following courses:
Year one
Summer experiential course (August)
Launch Intensive — ML 512 Responsible Leadership for the 21st Century (1 course)
Fall Semester
ML 520 Self-Identity and Values: Keys to Authentic Leadership (1 course — hybrid format)
ML 535 Organization Theory and Leadership (1 course — hybrid format)
Spring Semester
ML 505 Foundations of Leadership (1 course — hybrid format)
ML 553 Design and Leadership (1 course — hybrid format)
Summer Session One
ML 563 Leadership in a Global Society (1 course — hybrid format)
Year Two
Summer Session Two
Summer experiential course (ML 577) OR an alternative MAL elective
ML 577 Universal Responsibility and Leadership: A Nicaraguan Experience (1 course)
Fall Semester
ML 514 Research Methods (1 course — hybrid format)
ML 574 Strategic Leadership (1 course— hybrid format)
Spring Semester
ML 580 Colloquium of Contemporary Theories of Leadership (1 course — hybrid format)
Summer Session Three (spans Summer Sessions One and Two)
ML 585 Integrating the Theory and Practice of Responsible Leadership (1 course — hybrid format)