The 2017 National Conference of Seeing Things Whole, October 6-8th at Augsburg University
Since its founding in 1993, Seeing Things Whole (STW) has been a community of organizational leaders, scholars and educators dedicated to exploring the intersection of values, organizational life and sustainable organizational activity. STW's educational tools, workshops and conferences have helped individuals, particularly Next Generation Leaders, along with leadership teams and organizations on a passionate journey of seeing things whole.
To that end, we are pleased to continue the STW tradition of offering a fall conference that gathers people with a common interest in promoting organizational and community well being. As part of the weekend we are very excited to have Jacquie Berglund, founder and CEO of Finnegan's Brew Co. (and an Augsburg Alumnus) center circle on Saturday to actively engage with all attendees in an STW process that will focus on promoting innovation among social entrepreneurs.
The conference this year will take place on the Augsburg campus on October 6- 8. Conference Registration information can be found here.
It promises to be a thought provoking weekend and we hope you will join us!
on may 24 augsburg Will host the third annual Leadership Summit
The Midway Chamber was proud to once again host the Leadership Summit at Augsburg. This half day event was full of great information guests could take back to the office.
Sylvia Bartley, Global Director of Medtronic Philanthropy presented:
The Power of Leading from Your Heart
Sylvia's a lifelong seeker of spiritual enlightenment and inner peace. She strives to hold these values in all aspects of her life, both as a Global Director at Medtronic and in her community-service work.  Developing and exceeding strategic goals is a hallmark of Sylvia's work at every position she has held from academia to sales and global marketing.  During 15 years with Medtronic, Sylvia has convened global cross-functional teams to disseminate neurosurgical techniques for Deep Brain Stimulation therapy. She is now a Global Director in Philanthropy, a position that perfectly blends her business acumen, influential leadership style, dedication to community service and quest to elevate compassion and humanity at work. She's a recipient of several awards for her extraordinary achievement in business, her potential to lead change and strengthen communities; including Minneapolis/St. Paul Business Journal's 2017 Women in Business Award, 2013 Diversity in Business Award and 2014 Bush Foundation Fellowship.
The Leadership Summit includes admission to one of the below sessions:
Mary Laurel True, Director of Service Learning & Community Engagement at Augsburg University
Making Connections through Community Engagement
Understanding how to make those connections is critical if your organization is to grow and advance.  The Cedar/Riverside neighborhood is home to a unique array of emerging small businesses, and entrepreneurs – especially East Africa immigrant businesses and non-profits.  Using Augsburg's connections to Cedar/Riverside (one of the most diverse communities in this region) participants will have a walking tour – exploring and engaging local business and nonprofit groups to learn about the rich mosaic that makes up this area.  Mary Laurel will introduce participants to local businesses and organizations to learn more about how knowing, understanding, and connecting to your neighborhood will have a positive impact on your organization.
Diana Pierce, Chief Creative Officer at Diana Pierce Productions
Mentoring Emerging Leaders in an Uncertain World
Mentoring has long been recognized as a powerful tool in personal career development. It is an essential element in any organization's leadership success. Mentoring is a dynamic process for both mentor and mentee. Diana will bring her personal experience and expertise to this workshop by including examples of what a mentor does; identification of personal mentor style; and tools that can be used to create a personal mentoring plan.
Nicaragua: A Celebration of 10 years of Leadership and Learning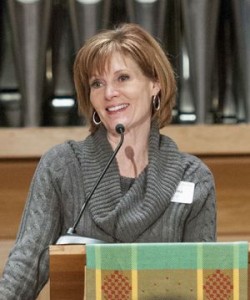 On Thursday, January 22, students, alumni, faculty, and guests of Augsburg's Master of Arts in Leadership (MAL) and Physician Assistant (PA) Programs gathered on campus to celebrate the 10th anniversary of the MA in Leadership course "Universal Responsibility and Leadership: A Nicaraguan Experience." The course is an unforgettable experiential learning seminar that has been attended by more than 160 MAL and PA alumni and students.
The event was hosted by Diana Pierce, MAL '15, KARE-11 News anchor and 2014 Nicaragua trip participant. It included Nicaraguan food, photos, and music.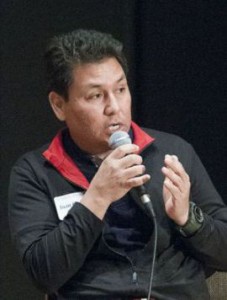 Special guest Juan Carlos Lopez, program coordinator for Augsburg's Center for Global Education and Experience in Nicaragua, joined us for the event. Lopez shared his insights and stories in an interview with Pierce and questions from the audience.
Proceeds from ticket sales went to Nica HOPE, a nonprofit based in Managua that works with communities living around the Managua city dump to offer long-term solutions to entrenched poverty through education and practical skills training.
As a student in the Nicaragua course, Pierce captured some of her experiences through photos and video footage. Once home, she and her daughter, Chelsea Babcock, created a video as a way to reflect on what she and other participants discovered.
Augsburg University has a long history of global engagement led by the staff in Augsburg's Center for Global Education and Experience.
About the course
ML 577 Universal Responsibility and Leadership: A Nicaraguan Experience helps students develop personal perspectives on the meaning of universal responsibility while exposing them to the leadership dimensions and challenges of another country.