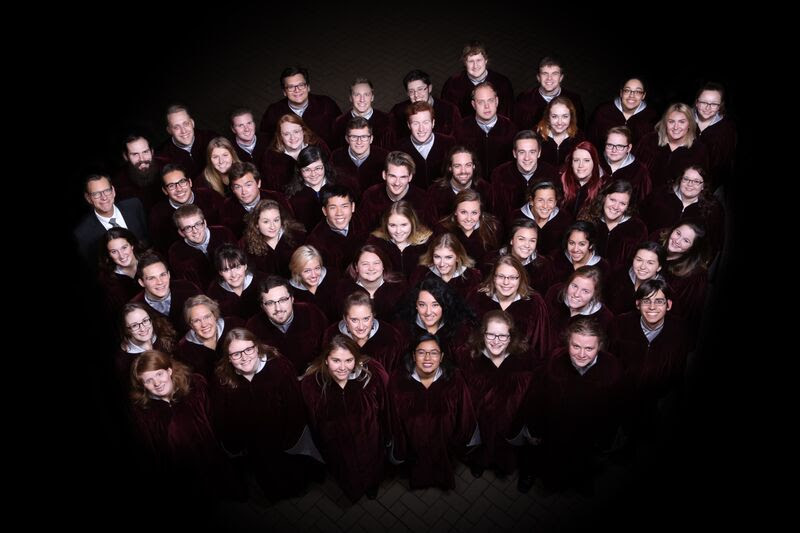 The 50-voice Augsburg Choir, this year under the direction of Mark Sedio '76, celebrates a long tradition of excellence in choral music. Praised for its high level of musicianship, the ensemble performs a diverse repertoire including compositions by well-known Scandinavian and American composers as well as a wide variety of music from throughout the world. The Augsburg Choir has premiered works by Knut Nystedt, Stephen Paulus, Steve Heitzeg, Carol Barnett, Egil Hovland, Kari Tikka, and Sigvald Tveit.
The Augsburg Choir's annual Advent Vespers services are regularly broadcast on public radio. In 2004, the 25th anniversary year, Twin Cities Public Television recorded and broadcast Advent Vespers, which was subsequently awarded a Regional Emmy Award. The Choir regularly tours locally, nationally, and internationally. In addition to national tours throughout the United States, the Choir has toured in Ireland, Sweden, Norway, Finland, Russia, Estonia, Hungary, the Czech Republic, Germany and China.
The Choir, in it's 84th year, upholds the University's history of choral excellence dating back to the early part of this century. While honoring its roots in the Scandinavian Lutheran choral tradition, the Augsburg Choir has developed a generous and free choral sound, performing music from China to Colombia and South Africa to Russia. This choral tradition encompasses not only the mission of Augsburg but also the legacy of noted conductors such as Larry L. Fleming and Leland B. Sateren.
2017-2018 Performances:
Saturday, October 14, 2017 – 10 a.m.
Performing during the Homecoming Chapel
Hoversten Chapel
(The Augsburg Choir, Centennial Singers, and Reunion Flute Choir)
Tuesday, October 31, 2017 – 11:30 a.m.
Morning Chapel, Celebrating the Reformation
Hoversten Chapel
(The Augsburg Choir, The Augsburg Concert Band)
Sunday, November 5, 2016 – 10:30 a.m., Morning Worship
Central Lutheran Church
333 S 12th St.
Minneapolis, Minnesota
Advent Vespers
Thursday, November 30, 8 p.m. (Open Rehearsal)
Friday, December 1 at 5 & 8 p.m.
Saturday, December 2 at 2 & 5 p.m.
Central Lutheran Church
Reservations Required (Available beginning October 20 at 12 p.m.)
March 2-4, 2018
Music of Three Faiths
The Augsburg Choir & The National Lutheran Choir
Saturday, March 3, 2018 – 7:30 p.m.
Hoversten Chapel, Foss Center
Sunday, March 4, 2018 – 4 p.m.
Adath Jeshurun Temple
10500 Hillside Lane West
Minnetonka, Minnesota
Sunday, April 22 – 4 p.m.
Spring Performance, The Augsburg Choir
Hoversten Chapel, Foss Center
Friday, April 27 – 5 p.m.
The Augsburg Choir participates in the Baccalaureate Service
Hoversten Chapel, Foss Center
Spring Tour – April 29 – May 2, 2018
The Augsburg Choir Spring Tour details will be posted soon!
Promotional Images:
Augsburg Choir Photo #1 (Print Quality)
Augsburg Choir Photo #2 (Web Quality)