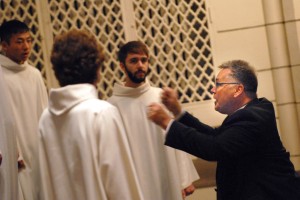 The Cedar Singers, directed by Jon Campbell, is where the men of Augsburg come to sing. The choir embraces a wide variety of music, from sacred chant and masterworks for men's voices to spirituals and pop songs. The choir is also focused on celebrating the camaraderie and beauty of male choral singing. The singers participate with other Augsburg musical organizations in the annual Advent Vespers each Christmas season at Central Lutheran Church. The group also performs regularly throughout the Twin Cities, leading worship at churches throughout the metro and in a spring concert sung in collaboration with the Riverside Singers.
2016-2017 Performances & Events:
Saturday, October 29, 2016
Riverside & Cedar Singers Showcase
2 p.m. Performance
Hoversten Chapel, Augsburg College
(Campus Parking Permit)
Advent Vespers
Friday, December 2 at 5 & 8 p.m.
Saturday, December 3 at 2, 5, & 8 p.m.
Central Lutheran Church
Reservations Required
Spring Semester
Details to be posted soon!