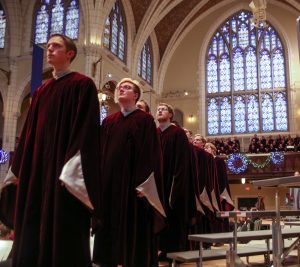 The Cedar Singers, directed by Samuel Grace, is where the low-voices of Augsburg come to sing. The choir embraces a wide variety of music, from sacred chant and masterworks for low-voices to spirituals and pop songs. The choir is also focused on celebrating the camaraderie and beauty of choral singing. The singers participate with other Augsburg musical organizations in the annual Advent Vespers each Christmas season at Central Lutheran Church. The group also performs regularly throughout the Twin Cities, leading worship at churches throughout the metro and in a spring concert sung in collaboration with the Riverside Singers.
2018-2019 Performances:
Wednesday, October 10 at 4 p.m.
Cedar Singers Pop-up Performance, Christensen Center
Saturday, October 13 at 4 p.m.
Homecoming – Choral Showcase Concert
Hoversten Chapel, Foss Center
Open to all!  Reception to follow the performance
A freewill offering will be taken during the performance
Parking
> It's Homecoming, so please allow a generous amount of time for parking, and plan to walk a bit!
> Parking will be available without a permit during Saturday's events in Lots A, D, and L, and street parking along lot C.
> Please also consider using one of the ramps at the U of MN.  While not free … very convenient!
Advent Vespers
Thursday, November 29, 8 p.m. (Open Dress Rehearsal)
Friday, November 30 at 5 & 8 p.m.
Saturday, December 1 at 2 & 5 p.m.
Central Lutheran Church, Minneapolis
Reservations Required (Available beginning October 19 at 12 p.m.)
Friday, March 8, 2019 at 7 p.m.
Cedar Singers Performance
Sateren Auditorium, Music Hall
Saturday, April 27, 2019 at 7 p.m.
Riverside & Cedar Singers Spring Concert
Hoversten Chapel, Foss Center