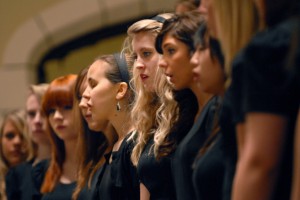 The Riverside Singers, directed by Nancy Grundahl, carry on the long tradition of treble choirs at Augsburg College. The singers participate with other Augsburg musical organizations in the annual Advent Vespers each Christmas season at Central Lutheran Church. Another anticipated event is the annual WomanVoice concert in March when college women's choirs from around the area join hearts and voices to sing music by, for and about women. Participating in chapel services several times during the year is an important part of the mission of the choir, as is hosting an invitational treble choir festival in the fall of the year.
2013-2014 Performances & Events:
Saturday, November 2, 2013
Treble Festival – 4 p.m. performance
Hoversten Chapel, Augsburg College
Friday, December 6 at 5 & 8 p.m.
Saturday, December 7 at 2, 5, & 8 p.m.
Central Lutheran Church
Reservations Required
TBD – WomanVoice
Hoversten Chapel, Augsburg College
Sunday, April 13, 2014
7:30 p.m., Riverside & Cedar Singers Spring Performance
Hoversten Chapel, Augsburg College