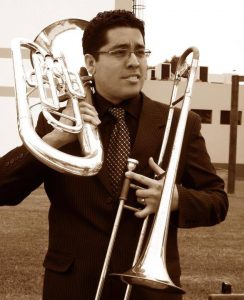 The Augsburg University Department of Music will be hosting their 3rd Annual Augsburg JazzFest on Wednesday, January 24, 2018.
Five high school jazz ensembles will have the opportunity to work individually with this year's guest clinician – Carlos Granthon, from Pontifical Catholic University of Peru!
More information on Carlos Granthon….
Clinic for High School Jazz Ensembles:
FIVE slots are available for high school jazz ensembles to have a one-on-one clinic opportunity with Carlos Granthon (45-minutes), followed by a 30-minute Reading Session with Rafael Rodriguez, Augsburg Jazz Director:

Slot #1:  8:15-9:30 a.m.
Slot #2:  9:45-11:00 a.m.
Slot #3:  11:15-12:30 p.m.
Slot #4:  1:00-2:15 p.m.
Slot #5:  2:30-3:45 p.m.

Clinic Location:

Sateren Auditorium, Music Hall
Augsburg University, Minneapolis, MN

Clinic Fee: $100
For more information, or to participate in the 2018 Augsburg JazzFest, contact: