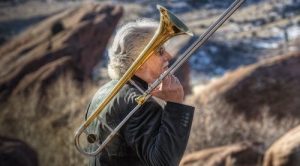 The Augsburg University Department of Music will be hosting their 2nd Annual Augsburg JazzFest on Friday, February 24, 2017! Four high school jazz ensembles will have the opportunity to work individually with Augsburg students, faculty, and this year's guest artist – Steve Wiest, trombone! Ensembles can also attend the Masterclass & Evening Concert – Full details below:
Evening Performance, 7:30 pm, Hoversten Chapel:
The Augsburg Jazz ensemble will take the stage with Steve Wiest for an entertaining evening of music
Tickets are now available

General Seating: $10pp
Group Tickets: $5pp

Available to schools that are interested in bringing their full jazz ensemble to the concert or masterclass
For Group Tickets, contact the Festival Coordinator—Cathy Knutson, 612-330-1279, knutsonc@augsburg.edu

Clinic Participants, free
---
Ensemble Registration:
For information, or to register your ensemble for any of the following events, please fill out this FORM!  We will contact you regarding availability and additional details.
Clinic for High School Jazz Ensembles:
FOUR slots are available for high school jazz ensembles to have a one-on-one clinic opportunity with Steve Wiest and Augsburg Faculty (11:30, 12:30, 2:45, 3:45 p.m.)
Group masterclass given by Steve Wiest (1:45 p.m.)
Clinic Fee: $150, which includes the clinic, masterclass & tickets to the evening concert (7:30 p.m.)
Evening Performance, 7:30 pm, Hoversten Chapel:
The Augsburg Jazz ensemble will take the stage with Steve Wiest for an entertaining evening of music
Tickets are now available

General Seating: $10pp
Group Tickets: $5pp

Available to schools that are interested in bringing their full jazz ensemble to the concert or masterclass
For Group Tickets, contact the Festival Coordinator—Cathy Knutson, 612-330-1279, knutsonc@augsburg.edu

Clinic Participants, free
For more information, or to participate in the 2016 Augsburg JazzFest, contact: