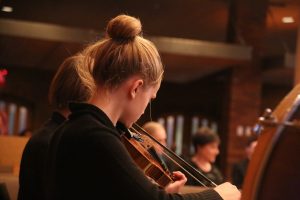 Welcome students, parents and directors! We are looking forward to an exciting day of music making featuring string students from across the state.
About the Festival
Date: Saturday, April 1, 2017 – Augsburg University
Cost: FREE for students, directors, and parents
Students: festival includes rehearsals, lunch, sectional coaching, and late afternoon concert
Parents: join us for the free concert at 3:30 p.m. in Hoversten Chapel
Directors: sit in on rehearsals, attend sectionals, join us for a free lunch
Overview & Important Dates
9th-12th Grade Honor Orchestra
Nominations due, March 3

Notifications, March 15

Any current 9-12th grade musician who has skill in performing on a string instrument (violin, viola, cello, or double bass) is eligible to be nominated for the festival by their director. Directors must complete and send the Director Nomination Form by March 3. After nomination forms are reviewed, Augsburg faculty will notify directors, and selected participants will receive music and additional information about the festival.
Festival Host/Director:
Benjamin Klemme
klemmeb@augsburg.edu
Festival Schedule
8:00 a.m., Check in at Foss Center Atrium (entrance on 22nd Ave. S)
8:15 a.m., Find seats and warm up in Hoversten Chapel
8:30 a.m., Rehearsal
10:00 a.m., Break
10:15 a.m., Rehearsal
11:30 a.m., Lunch (provided) – Christensen Center Commons
12:30 p.m., Sectionals
1:45 p.m., Final rehearsal
3 p.m., Break/Prep for concert
3:30 p.m., Concert Begins, Hoversten Chapel in the Foss Center
Festival Repertoire
Percy Fletcher, Folk Tune and Fiddle Dance
Edvard Grieg, The Death of Ase, from Peer Gynt
Benjamin Britten, Simple Symphony
Resources