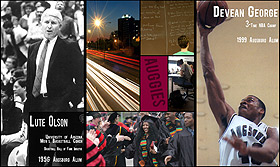 On Thursday, Oct. 4, President Pribbenow and Tom Morgan were esteemed guests at the dedication of the new Colin Powell Youth Leadership Center in South Minneapolis. Augsburg was one of eight colleges asked to sponsor a portion of the school's basketball court with an urban mural. Retired-General and former Secretary of State Colin Powell participated in the dedication.
While the center bears Powell's name, the idea for the facility comes from Urban Ventures Leadership Foundation, a Minneapolis-based economic development corporation.
Stephen Geffre, Augsburg photographer, compiled the 48' x 12' mural using three Augsburg basketball legends as models. Devean George, who now plays for the NBA's Dallas Mavericks; Lute Olson, the head basketball coach for the University of Arizona; and Dan Anderson, who played for the New York Nets and currently serves on the board of regents. The mural also conveys the importance of academics by showing a variety of students hard at work in an urban setting.
The Colin Powell Youth Leadership Center is being built in partnership with the Cristo Rey Jesuit High School founded and sponsored by the Society of Jesus (a Roman Catholic order more commonly known as the Jesuits). The school will serve low-income families of any faith or culture who desire a religiously supportive, Christian value-centered education for their children.
"We are building relationships between our kids and Augsburg," says Art Erickson, Urban Ventures director. "We want our kids to graduate from colleges and universities as transformed people who are self sustaining instead of on welfare. We want kids in the city to be self sustaining and to be leaders who give back to their community."
If you are interested in volunteering with Urban Ventures, please contact Jenifer Seigle at 612-638-1001.