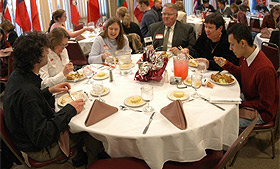 The Center for Service, Work & learning (CSWL) and Augsburg's Student Business Organization (ABO) sponsored a Business Etiquette dinner on Tuesday, Nov. 20.  The event was held to educate Augsburg students about the do's and don'ts of certain business etiquette rules needed for any business lunch or dinner.
This was the first year that this event was held on the Augsburg campus.  The event was held in the Marshall Room on the main level of the Christensen Center. Some 23 students with business backgrounds gained knowledge in appropriate business etiquette.  Darcy Matz, a business etiquette teacher for 17 years, led the event in a 2-hour discussion and dinner dealing with proper dinner etiquette.  Matz stressed the importance of how essential proper etiquette is and how improper business etiquette can be costly to your image. 
Students were led through a three-course meal dealing with the proper manners of passing items, choosing the correct utensils, where to place your napkin, and further important etiquette rules that applied to business dinners.  In addition, Augsburg business alumni were present for students to ask questions and network with for later connections in the business world.
Sandy Tilton, director and organizer of this etiquette event, hopes to continue it next year with twice the number students in participation because of the outstanding success this year.