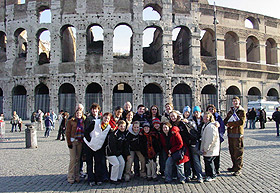 For the second time in the 13-year history of the program, the Augsburg College women's hockey team will be traveling to Europe, this time for a 10-day excursion to Germany, Austria and Italy in early January 2008.
The Auggies will play three games against local club competition during the trip from Jan. 3-12, while also experiencing the beauty and history of Europe. This is the second-ever European trip for the Augsburg women's hockey program; the team traveled to Italy and Austria in the 2003-04 season (photo from the 2003-04 trip shown).
Twenty members of the team, along with head coach Jill Pohtilla, assistant coach Tom Peart, head athletic trainer Missy Strauch and several family members and friends, will be making this year's trip.
"I'm excited that we have the opportunity to travel to Europe again, using hockey as our tool for spreading goodwill," Pohtilla said. "The kids that make a commitment to a winter sport often don't have an opportunity to do a study abroad program while they're in college. This is an opportunity for them to see another part of the world and learn about history, and experience a different culture."
The team will fly from Minneapolis-St. Paul to Munich, Germany on Jan. 3 and spend three days in the Bavarian city, with side trips to Dachau and Bad Tolz. The team will play two games against German competition while in the Munich area.
From Munich, the Auggies will travel to Innsbruck, Austria for a day of sightseeing, then travel to Bolzano, Italy, located in the northern part of the country in the Alto Adige region. The team will play its final game in Bolzano against an Italian team. From Bolzano, the team will travel for a day of sightseeing in Florence, and finish the trip with sightseeing in Rome, including a visit to the Vatican City, St. Peter's Basilica and the Sistine Chapel. The team will return to Minneapolis-St. Paul on Jan. 12.
Members of the traveling party will be providing daily updates and photos for the Augsburg women's hockey web site, which will be updated throughout the trip.