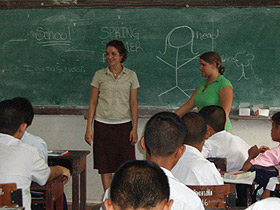 The deadline for short-term study abroad applications is Feb. 1, 2008. With so many program options available, there is a good fit for every Auggie. Short-term programs offered this year are traveling to Thailand, Germany, Canada, France, Mexico, Poland, and the Czech Republic.
This year, the International Business study abroad program is going to Germany and is designed specifically with WEC students in mind. A significant price drop has been issued as well: $4,000 to $2,825! Students studying English, History, Social Work, Art, and Sociology will find programs that suite their needs as well.
Eli Hunstad, a senior at Augsburg, traveled to Thailand in May 2005. "Short-term study abroad is a really excellent opportunity to travel and enhance your education. Thailand is a really wonderful place to vacation, but it was so much more than that for me. I gained specific hands-on teaching skills at the same time."
If you are interested in learning more about short-term study abroad programs, visit www.augsburg.edu/augsburgabroad or contact Amy Greeley at greeleya@augsburg.edu.