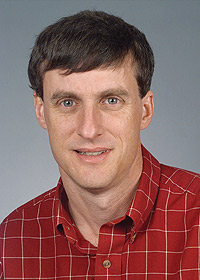 On Jan. 14, NASA's Messenger spacecraft made its first flyby of the planet Mercury — the first by any Earth craft in over 30 years. Behind the scenes of this long-awaited return to Mercury, there was an Augsburg connection: Distinguished Alumnus Brian Anderson '82 is the mission's Magnetometer Instrument Scientist. One of the main goals of the Messenger mission is to understand the nature of that dense planet's magnetic field.
Anderson's participation in the exploration of Mercury is the latest product of Augsburg's long tradition of space-science excellence. It began in 1970, when Augsburg alumnus Ken Erickson returned to Minneapolis to take up a joint appointment as an Associate Professor of Physics at Augsburg and as a
researcher in the space physics laboratory of Professor John Winckler of the
University of Minnesota. Since then, an increasing number of Augsburg physics students have participated each year in research projects with Augsburg faculty.
Those research projects have ranged from building instruments to rocket into the aurora borealis (northern lights) to data analysis from satellites to studying the hot, thin plasma that surrounds the Earth. Professor Mark Engebretson says, "Augsburg Physics faculty and students are currently supported by seven space physics grants from NASA and the National Science Foundation totaling over $1,400,000."
To celebrate Augsburg's work in the sciences, including the space sciences, Johan Sverdrup and the Minnesota Space Grant College Consortium began the Sverdrup Visiting Scientist Program in 1990. This program brings in scientists to present their research to the community on a wide range of topics, from oceanography to renewable energy to space medicine. This year, Dr. Steve Squyres (pictured above) — Goldwin Smith Professor of Astronomy at Cornell University — will present his research on the large, solid bodies of the solar system. He has participated in a number of planetary spaceflight missions since 1978, and he is currently the scientific principal investigator for the Mars Exploration Rover Project.
Befitting Augsburg's space science programs, Dr. Squyres will present a lecture, "Roving Mars: Spirit, Opportunity, and the Exploration of the Red Planet" on April 14 at 7:30 p.m. in the Hoversten Chapel. Then, on April 15, he will host the Sverdrup Convocation at 11 a.m. in the Hoversten Chapel, with a topic called "Exploration of the Solar System: Past, Present, and Future."