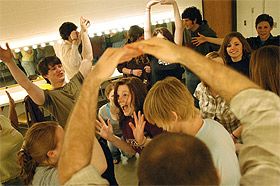 Each summer, more than two dozen actors and singers converge on the Augsburg College campus to learn a performance method created by H. Wesley Balk, one of the early leaders of the Minnesota Opera. This year, the Wesley Balk Opera/Music Theater Institute will again be at Augsburg June 22 to July 12, 2008. The performance method is taught in workshops and mini-performances throughout the 3-week institute and consists of fusing expertise in body awareness, facial and body expressivity, and vocal production.
Workshops create an environment of experimentation and risk-taking that is essential to learning the Wesley Balk method. To quote the Balk Institute's web site (www.wesleybalk.org) the workshops have had "a profound impact upon hundreds of participants who have found its concepts applicable to all styles of performance ranging from traditional opera to Broadway musicals to new and experimental music-theater."
Three Augsburg singer/actors, either current or recently graduated, are given full scholarships to attend the Institute. In the course of time, many of these students have gone on to establish themselves as performers and stage or music directors.
The Institute's staff is lead by stage director Ben Krywosz, who also serves as artistic director of Nautilus Music-Theater in Saint Paul, where he has directed productions of such works as "Into the Woods," "Goblin Market," and "Hearts on Fire."
Karen Coe Miller is the co-founder of Nautilus and has directed opera and music-theater for Geva Theatre in Rochester NY, Des Moines Metro Opera, Sarasota Opera, Lyric Opera of Cleveland, The Ohio State University, Northern Arizona University, Baylor University, and the University of North Texas.
Jerry Rubino is one of the music directors for the Institute and served as a visiting studio artist at Augsburg College in 2005. He has worked extensively with the Dale Warland Singers and currently serves as Minister of Music at Spirit of Hope United Methodist Church in Golden Valley.
Music Director Barbara Brooks is an Augsburg alumna and an active coach, pianist, and conductor/music director in the Twin Cities. She has worked the Canadian Opera, Minnesota Opera, New Orleans Opera, Opera Banff, Kentucky Opera, Des Moines Metro Opera, Berkshire Opera and the Wesley Balk Institute. She currently teaches at Macalester College and is principal pianist with the Minnesota Choral, the official chorus of the Minnesota Orchestra.