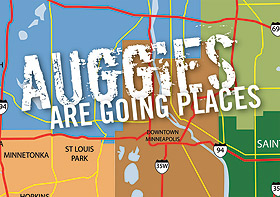 Once again, Augsburg College will share the floor with other Minnesota colleges, universities, and educational organizations at the Minnesota State Fair, August 21 – September 1, 2008. The Augsburg booth is in the Education Building located on Cosgrove Street between Dan Patch and Wright Avenues on the east side of the fairgrounds.
"Auggies are going places" is the theme for this year's booth. The display and the accompanying brochure for prospective students emphasize Augsburg's study abroad options for students in undergraduate and graduate programs, its location in the heart of the city, the commitment to "green" living and promoting environmental awareness, a dedication to community service, and an enthusiasm for activism and hands-on learning.
The booth will be staffed by more than 40 volunteers from the offices of admissions, marketing and communication, institutional advancement, enrollment services, and by college administrators. Sources close to the Augsburg's president, Paul C. Pribbenow, report that he is scheduled to visit the education building in the afternoon of August 22.
According to Michele Kidwell, Augsburg's director of retention, there will be no giveaways — no lanyards or keychains or train-shaped hats — at the booth this year. Instead, Augsburg alumni who stop by will receive a gift and an incentive to visit the campus to see the many recent changes that have taken place. All Augsburg students, faculty, staff, and alumni are invited to stop by and bring a future Auggie.
For more information on the Great Minnesota Get-Together, go to www.mnstatefair.org.