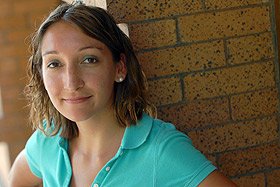 Amanda transferred from Normandale Community College with AA degree. She is a mass communication and media writing major with a minor in business administration.
Why She Transferred
I transferred to Augsburg mainly for the small campus. I loved the idea of being in a small class so I could have one-on-one time with the professors. I think being able to get to know my professors helps me learn more. I also felt that being on a smaller campus would give me more opportunities to be involved with the school, which has been true so far. I have a job at the EC, I write for the Augsburgian (yearbook), for the office of marketing and communications, and this fall I will also write for the Echo (student newspaper).
Why She Loves Augsburg
What I like most about being an Auggie is being part of the little community here. I like knowing my professors and my classmates. When you are in a class with 15 other people, you get the chance to get to know one another, which makes class discussion more interesting. Being an Auggie means I am part of Augsburg, along with every other student, staff or faculty member. There isn't an uncomfortable feeling of not knowing anyone because we are all Auggies, so we are all in the same community.
The major difference from my other school to Augsburg is the community feeling. At larger colleges, you could walk through campus and not know a single person. But at Augsburg, I am getting to know more and more people. I don't feel like I'm just attending classes, I also feel like I'm part of the school.
Her Advice to Transfers
My advice is to take a tour of the college and talk with the Enrollment Center. It really helped me to talk with Financial Aid and Academic Advising before I transferred. I found out what to do, who I needed to talk to, and everything I needed to know about starting school at Augsburg. It was helpful to have someone to talk with so I didn't feel like I was doing it all by myself.
One really important lesson I learned about transferring from one college to another is to pay attention to paperwork!