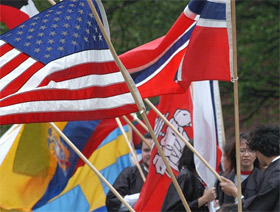 International Education Week is a nationwide joint initiative of the U.S. Departments of State and Education to promote programs that prepare Americans for a global environment and attract future leaders from abroad to study, learn, and exchange experiences in the United States.
In observance of International Education Week, the Augsburg Office of International Programs and the International Student Organization are promoting the following events:
Monday, Nov. 17
Information Tables — The Americas
10:30 a.m.-1 p.m.
Christensen Center lobby
Financing Study Abroad Workshop
Find out how affordable study abroad really is if you plan ahead. Learn how financial aid and study abroad work at Augsburg. Get valuable insight into the application process for numerous study abroad scholarships. Draft your personal study abroad funding plan. Presented by Carly Eichhorst, Financial Aid; Leah Spinosa de Vega, Augsburg Abroad; Dulce Monterrubio, Center for Global Education
3:45-4:45 p.m.
Minneapolis Room, Christensen Center
Tuesday, Nov. 18
Information Tables — Europe
10:30 a.m.-1 p.m.
Christensen Center lobby
International Programs Photo Contest Reception
More than 60 photos were submitted by students who studied abroad in the last year, and 29 were chosen to be displayed in Old Main. First, second, and third place photos were chosen in each category— Photojournalism, Landscape, and Portrait. Entries were judged by three local photographers:
Stormi Greener – former Star Tribune photographer
Mike Dvorak – local freelance photographer
Susan Boecher – Augsburg College assistant professor of photography
The photo contest is sponsored by the Office of International Programs, the department of Languages and Cross-Cultural Studies, and the Office of Marketing and Communication
4-5 p.m.
Old Main 2nd floor
Wednesday, Nov. 19
Information Tables — Africa and the Middle East
10:30 a.m.-1 p.m.
Christensen Center lobby
Film Clips for Intercultural Competence
This interactive presentation will use film clips to explore issues related to being effective in communicating across cultures. Presented by Jim Trelstad-Porter, Director of International Student Advising and David Hamilton, Director of International Travel Seminars
3:30-5 p.m.
Marshall Room, Christensen Center
An Evening with Ana Luisa Fajer, Mexican Consul
International Business, Trade and Mexico/US/Minnesota Relations
Prior to being appointed Mexican Consul in Saint Paul, MN, Ms. Ana Luisa Fajer served as Director General for Africa and the Middle East in the Ministry of Foreign Affairs. She also has served as Coordinator for International Relations at the National Institute of Migration. Ms. Fajer has also published several studies on current issues in Africa, as well as various articles on foreign policy in numerous newspapers and magazines.
5-6:30 p.m.
East Commons, Christensen Center
Thursday, Nov. 20
Information Tables — Asia & Oceania
10:30 a.m.-1 p.m.
Christensen Center lobby
Anne Pedersen Women's Resource Center Koryne Horbal Lecture
Winona LaDuke, environmentalist, political activist, and former vice-presidential candidate
11 a.m.
Hoversten Chapel, Foss Center
Friday, Nov. 21
Information Tables — ISO Food and Drink
10:30 a.m.-1 p.m.
Christensen Center lobby
International Peace and Reconciliation Chapel
Chapel talk on the Hoversten Peace and Reconciliation Program in Guatemala led by faculty, students, and staff. Learn how faculty, staff and students can participate in the next Hoversten Program in Latin America. Followed by community time featuring participants' photos and Guatemalan Free Trade coffee.
10:20 a.m.
Hoversten Chapel, Foss Center