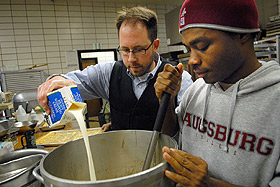 If you didn't eat in the Commons cafeteria on Wednesday, you missed a treat. The students in SBS 100: Environmental Connections prepared a scrumptious meal using locally grown and produced foods including greens they planted and harvested in Augsburg's greenhouse. Congratulations class on a job well done!
Joe Underhill, one of the SBS 100 instructors, said he, Michael Lansing, and the students in the class had a lot of fun with the project but are also glad it's done now. "My favorite comment was from two of our students, one of whom said he felt 'warm inside' after the meal, and the other who felt 'full in a different way than I usually do' after the meal, and in a good way. I think a lot of people have rarely or never really eaten this kind of fresh, really nutritious food."
Here are the recipes for the Apple Pie, Shepherd's Pie, and Radish Soup. The chicken recipe was handled by Brian Stansberry, and the salad was just (really fresh) mixed greens and a vinaigrette that Tracy (super nice staff from A'viands) made.
Tom Rixen's Grandmother's Caramel Apple Crumble Pie
FOR THE CRUMBLE TOPPING
1 cup rolled oats
1/2 cup brown sugar
1/4 cup all-purpose flour
1/2 cup slivered almonds
1/4 teaspoon ground cinnamon
1/4 cup butter, cubed
FOR THE PIE
1 (9 inch) single pie crust
6 apples cored and thinly sliced
2 tablespoons lemon juice
1 tablespoon all-purpose flour
1/2 cup brown sugar
2 teaspoons ground cinnamon
1/2 cup caramel sauce
1. Preheat an oven to 350 degrees F (175 degrees C).
2. To make the topping, combine the oats, 1/2 cup brown sugar, 1/4 cup flour, slivered almonds, and 1/4 teaspoon cinnamon. Cut in the butter until the mixture resembles coarse crumbs; set aside.
3. Roll out the pie dough into a circle and transfer it to a 9-inch pie plate. Trim the pastry and crimp the edge. Toss the apples with the lemon juice in a bowl to prevent browning. Combine the 1 tablespoon flour, 1/2 cup brown sugar, and 2 teaspoons cinnamon; toss with the apples to coat. Drizzle 1/4 cup of caramel sauce over the bottom of the pie shell. Add the spiced apple mixture; drizzle with remaining 1/4 cup of caramel sauce. Sprinkle the crumble topping evenly over the apples.
4. Bake the pie in the preheated oven for 50-60 minutes, or until the apples are tender and the crust is browned.
Shepherd's Pie with Winter Vegetables
2 pounds baking potatoes (about 4), peeled and cut into large pieces
1 1/2 teaspoons salt
3/4 teaspoon fresh-ground black pepper
1 cup heavy cream
6 tablespoons butter
2 large onions, sliced
1 clove garlic, minced
4 cups sliced mixed winter vegetables, such as celery, turnips, Brussels sprouts, parsnips, fennel, cabbage, or celery root
2 carrots, sliced
1/4 teaspoon dried thyme
3 cups canned low-sodium chicken broth or homemade stock
1. Put the potatoes in a medium saucepan of salted water. Bring to a boil, reduce the heat, and simmer until the potatoes are tender, about 15 minutes. Drain the potatoes and put them back into the saucepan along with 1 teaspoon of the salt and 1/4 teaspoon of the pepper. Mash the potatoes over very low heat, gradually incorporating the cream and 4 tablespoons of the butter. Cover and set aside.
2. Meanwhile, in a Dutch oven, melt the remaining 2 tablespoons of butter over moderately low heat. Add the onions and cook, stirring occasionally, until golden, about 10 minutes. Add the garlic and cook, stirring, until fragrant, about 1 minute. Stir in the sliced mixed vegetables, carrots, thyme, and the remaining 1/2 teaspoon each of salt and pepper. Mix well.
3. Stir in the broth and bring to a simmer. Cook over moderate heat, covered, until the vegetables start to soften, 5 to 10 minutes. Uncover, increase the heat to moderately high, and cook until the vegetables are tender and almost no liquid remains in the pan, about 10 minutes longer.
4. Heat the broiler. Transfer the vegetables to a 9-inch pie plate, spread the potatoes over the top, and cook until lightly browned, about 5 minutes.
Radish Soup (from cooks.com)
This isn't exactly the recipe we made–our student, Luom, improvised his own recipe when we couldn't find our recipe list on Wednesday morning. This can be made vegetarian by using vegetable stock instead of chicken.
12 radishes
4 sm. onions
2 cans chicken (or vegetable) broth
1 can water
1 bay leaf
3 tbsp. butter
3 tbsp. flour
2 c. half and half
1 tbsp. Worcestershire sauce
Salt and pepper
Cook radishes and onions in chicken broth and 1 can water with bay leaf until radishes are soft. Remove the bay leaf. Put radishes and onions in blender and puree. Return to broth.
In separate pan melt butter, add flour and cook about 1 minute. Slowly add milk, stirring until smooth. Add radish mixture, Worcestershire sauce, salt and pepper. Serve hot.