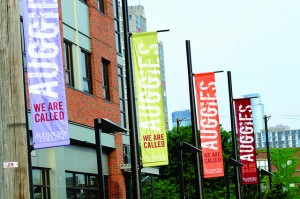 Augsburg College, on April 7, will recommit and expand its commitment to educating students of ability regardless of citizenship and immigration status in support of United We Dream's National Institution Coming Out Day.
"We recognize that intellectually talented students of ability come from all walks of life," said Augsburg College President Paul Pribbenow.
"Increasingly, undocumented students are raised right here, in the United States. Augsburg – and every higher education institution – must heed the call to educate students of ability. It is through this call that our colleges and universities can secure economic prosperity not only for students, but for our state and nation."
Since 2007, Augsburg has set the bar among colleges and universities in Minnesota in its work with undocumented students. For example, Augsburg, for years, has fully reviewed applications of undocumented and/or DACA (Deferred Action for Childhood Arrivals) students who graduate from high schools in the United States. These student applications are considered for admission and for all types of private financial aid offered by Augsburg. Undocumented and DACA students admitted to Augsburg College are not classified as international students and are not distinguished from domestic students.
To deepen the impact of our commitment to these students going forward, Augsburg College will move from a set of individual support programs to system-based support for undocumented and DACA students. The first step in this process is the College's pledge today as part of National Institutions Coming Out Day. As part of this pledge, Augsburg commits to:
Broaden access to higher education for the estimated 11,400 undocumented youths in Minnesota, in part by providing institutional aid and grants to incoming first-year and transfer undocumented and DACA students admitted and enrolled in the undergraduate day program for the 2015-16 year.
Reduce financial barriers faced by undocumented students so they can participate in academic and co-curricular activities that are core experiences for any college student —  including internships, undergraduate research, supplemental instruction sessions, community engagement, and student leadership opportunities.
Empower undocumented and DACA students to come out of the shadows, to develop self-advocacy skills, to persist in their academic studies, and to graduate.
"We must equip students of ability for lives of meaning and purpose in the 21st century," Pribbenow said. "Through our continued and expanded commitment today, we will continue to grow as a new kind of student-centered, urban university that is small to our students and big for the world."
Additional information about Augsburg College's commitment to undocumented and DACA students is available at augsburg.edu/undocumented.
About Augsburg College: Augsburg College is set in a vibrant neighborhood at the heart of the Twin Cities, and offers more than 50 undergraduate majors and nine graduate degrees to more than 3,500 students of diverse backgrounds. Augsburg College educates students to be informed citizens, thoughtful stewards, critical thinkers, and responsible leaders. The Augsburg experience is supported by an engaged community committed to intentional diversity in its life and work. An Augsburg education is defined by excellence in the liberal arts and professional studies, guided by the faith and values of the Lutheran church, and shaped by its urban and global settings.