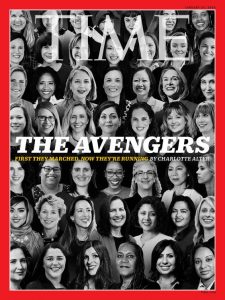 "The Avengers: First They Marched, Now They're Running," reads the headline across the cover. This year, a record number of women are running for office, and among them is Leah Phifer, adjunct faculty at Augsburg University, where she teaches Politics and Policy of Immigration, Introduction to American Government and Political Methodology.
Pifer is running for the DFL nomination for the 8th district seat of the U.S. House. Leah has served Minnesotans through her work at the Federal Bureau of Investigation and Department of Homeland Security and has also worked for the FBI, enforcing laws written in the name of national security.
"Of course, electing more women in Congress would not necessarily lead to an instant federal paid-family-leave plan or national child care. Female lawmakers of both parties tend to elevate issues that men ignore." states Charlotte Altar, the author of the TIME magazine article. "Women have a long way to go to get to parity in American politics. They hold less than 20% of seats in Congress, just 25% of those in state legislatures and only six of the nation's 50 governorships." adds Altar.
Leah's picture is just below the "T" in "The Avengers." Part of the word "First" is directly over her hair. This appears in the January 29, 2018 issue of TIME.