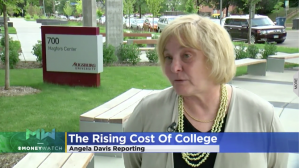 Jeanne Boeh, professor of economics and business department chair at Augsburg University, recently spoke with WCCO about the rising cost of a college education.
Boeh noted that a college degree is still worth it.
"It is a different experience than it was 20 years ago. All the amenities have improved. There is more support for students. The dorms are better. The food is better. The kind of help students need is more available. All of that costs money," Boeh told reporter Angela Davis.
Read and watch the full report at the WCCO site.