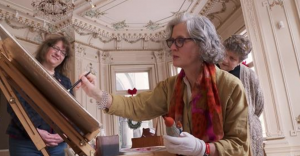 Twin Cities PBS featured retired Augsburg art professor Tara Sweeney's collaborative "A to Zåäo" picture book project at the American Swedish Institute.
"A to Zåäö," is a Swedish alphabet book that features paintings of objects and stories from the historic Swedish-American immigrant experience.
"The objects are the things that immigrants brought to Minnesota and I have to believe they were traveling pretty light. So they brought things that meant something to them and/or they were useful, so they're loaded with stories." Sweeney told TPT's Minnesota Original art series.
Sweeney credits her 25 years of service at Augsburg and its institutional mission for influencing her interest in developing a picture book that speaks to historic and contemporary immigrant experiences.