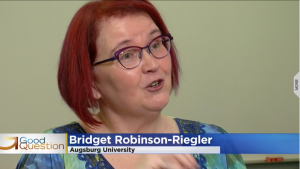 The recent comeback of the hit TV show "Murphy Brown" stirred up some warm memories among fans after 20 years of being off the air.
So, why does nostalgia feel so good? WCCO's Heather Brown talked with Bridget Robinson-Riegler, professor of psychology at Augsburg University, about the psychology behind the feeling of nostalgia that certain past memories make us feel.
"When we are depressed, feeling alone, feeling angst-ridden, we turn to nostalgia because that makes us feel better," Robinson-Riegler told WCCO. "When we think back to our past, the neural substrates, the things responsible for how people construct memories of the past, are the same mechanisms by which people project about the future.
Watch the full report at the WCCO website
The Pioneer Press reported earlier this year about the trend of the '00s back in television.
Given the high demand for reboots, relaunches and remakes, Ross Raihala, of the Pioneer Press, interviewed Robinson-Riegler about what she describes as a "reminiscence bump."
"Most memories come from age 10 to age 30 or so," said Robinson-Riegler, in the article. Many network executives are of an age where some of their most potent memories formed around the turn of the century, thus the oncoming tide of '00s throwbacks, she told the Pioneer Press.
Recent hit television revivals include "Trading Spaces," "Will and Grace," and "Queer Eye" and movie sequels such as "Super Troopers 2," and "Incredibles 2."
"One of the main things nostalgia does is help people find meaning in life and to connect with other people," Robinson-Riegler said. "When you're connected to other people, life has meaning. Nostalgia makes people feel protected, loved and happy. People even feel physically warmer."
Read the full article at the Pioneer Press